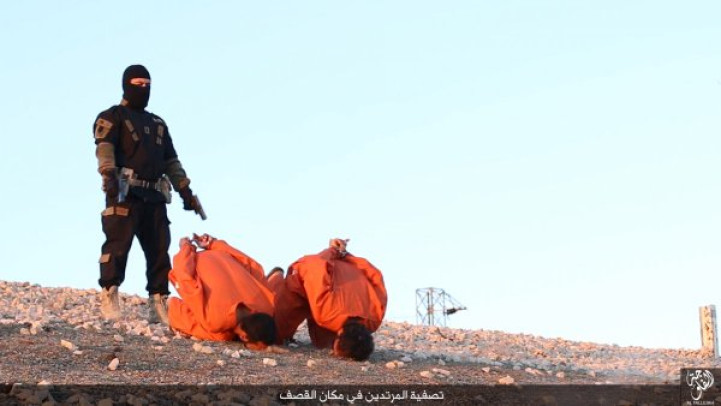 Islamic State (Isis) has released new shocking execution images showing a man's head being blown off by explosive wire. The victim was one of six men killed in the city of Fallujah over accusations of spying for the government, the jihadi group said in a statement.
"The judicial police carried out death sentences issued by an Islamic court in Fallujah against several apostates after they were convicted of spying," the message read, AFP reported. It was accompanied by photos showing IS (Daesh) executioners adopting different methods to kill the prisoners, who all wore orange jumpsuits.
Four were shot in the head from short range by black-clad militants wearing balaclavas, and another was beheaded with a knife. The goriest treatment was reserved for the last victim identified by IS as a local hospital worker accused of passing information to Baghdad on fellow staff at the Fallujah General Hospital.
The picture showed militants tying an explosive blue rope around his neck and decapitating him by detonating the device. IS has been losing ground to government troops backed by a US-led coalition in recent weeks but still holds Fallujah, a large city 65km west of Baghdad, as well as Mosul.
Meanwhile, on 17 March the Iraqi military confirmed that one of its reconnaissance and combat planes crashed during a mission over IS-controlled territories near the northern town of Hawija.
Joint Military Command spokesman Brigadier General Yahya Rasool told AP an investigation had been launched to ascertain the fate of the Cessna 208 Caravan single-engine turboprop's crew and what caused the crash. The IS-linked Aamaq news agency released video footage of the plane crashing, claiming it had been sot down.