A Coptic church being built to commemorate local victims of Isis in the southern Minya Province has been attacked by scores of young Muslims, some throwing petrol bombs. At least seven people were wounded, three of them seriously, the church and grounds damaged and a car burnt out.
The church was being built in the village of al-Our, where 13 of the 21 victims beheaded by Isis in Libya originated. Coptic citizens had bought suitable land, but the construction of the church was controversial, with some local Muslims objecting to its being built at the entrance to the village.
According to Daily News Egypt, on 27 March scores of Muslims who had attended midday prayers gathered outside the church to protest at its construction, chanting it would never be built. The Muslim protest took place as a mass was being held for those beheaded by Isis.
The men, some of whom were identified as belonging to Muslim Brotherhood, dispersed without incident, but later the same evening some returned with petrol bombs and launched the attack. International Christian Concern alleges some of the attackers fired shots at the church.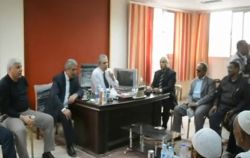 The priest at the church Fr. Makar Issa said he informed police an attack was imminent but nothing was done.
"I called the police many times and asked them to come to guard us but they came late and after their arrival they didn't guard the church," said Fr Issa. "They stopped in the entrance of the village. Even still they allowed the cars of the attackers to enter the village and attack us and the church without any intervention from them to protect us."
The day after the attack Minya's governor met Christians and Muslims to resolve the problem and it was agreed the position of the church would be changed.
Minya Province has one of Egypt's highest concentrations of Coptic Christians, who form 10-20 per cent of the country's population in the Muslim-dominated country.
Some Muslims harbour suspicions the Christians helped remove President Morsi from power, an event which caused upheaval and violence across Egypt. Following Morsi's removal and the violent dispersal of the Muslim Brotherhood which supported him at least 42 churches were attacked and in impoverished Minya Province three Christians and one Muslim were killed.