Former Islamic State (Isis) hostages have offered accounts of the treatment of US aid worker Kayla Mueller, who was abducted by the terror group in 2013. Speaking as part of ABC News' 20/20 broadcast, The Girl Left Behind, set to air on 26 August, her fellow hostages claim the 25-year-old held on to her hope and faith despite attempts by her captors to convert her.
Former hostage Daniel Rye Ottosen, a Danish freelance photographer, spoke about how Mueller stood up to executioner Mohammed Emwazi, the British national who later came to be known as Jihadi John, and three other Britons who had joined IS (Daesh). The hostages referred to them as The Beatles.
"One of the Beatles started to say, 'Oh, this is Kayla, and she has been held all by herself. And she is much stronger than you guys. And she's much smarter. She converted to Islam.' And then she was like, 'No, I didn't,'" Ottosen recalled in an interview for the ABC show.
"I would not have had the guts to say that. I don't think so," he said, recollecting how he once tried to strangle himself when IS guards strung his arms up by chains.
"It was very clear that all of us were impressed by the strength that she showed in front of us. That was very clear," he added. The US claimed she had been killed by the terror group in 2015.
Three other western hostages and a Yazidi teenager, who were released by the group, also testified to Mueller's courage. "They would scream at her, and they would blame her for everything that America has done in the world," said Frida Saide, one of three women from Doctors Without Borders (DWB) or Medecins Sans Frontieres, who shared a cell with Mueller at one of the prisons.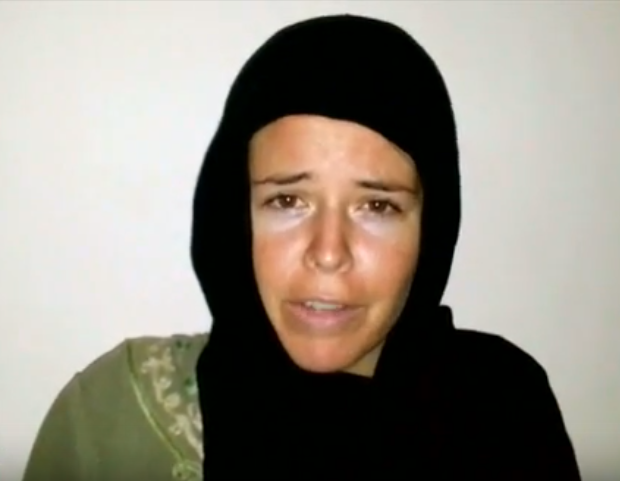 Mueller was in Aleppo, helping a DWB contractor install satellite internet at a hospital, the day after which she and two staffers were abducted on 4 August, 2013.
She spent a total of 18 months in captivity, being shuffled around from one makeshift prison to another, where she was reportedly subjected to verbal abuse, prolonged isolation, sensory deprivation, stress positions, forced labour and sexual assault, before dying in captivity. In February 2015, IS claimed Mueller was killed in an airstrike in Syria and emailed her parents three photos of her dead body.
Mueller's parents have now released the chilling video they were sent of their daughter, a month after her abduction. In the 10-second clip, she introduced herself before asking for help. "I've been here too long, and I've been very sick. It's, it's very terrifying here," she said in the proof-of-life footage while wearing a black headscarf and a green hijab.
Marsha and Carl Mueller have also expressed their disappointment with DWB for the way they handled the situation. Negotiations took 10 months to begin and started only after DWB gave them an IS email address that they had received two months earlier from other workers who were released from captivity.
Doctors Without Borders officials claim the delay in releasing the email address was due to ongoing negotiations for the release of other staffers still held by the terror group at the time. On 24 August, the aid group issued a statement stating that "Kayla herself asked the women not to pass along this other [ISIS-ordered] letter". However, two of the former hostages told the news network that the statement was "not true" and that "there was no discussion where Kayla asked us not to pass it on".