Isis Insurgents Tweet Picture of Beheaded Man: 'This is our ball. It's made of skin #WorldCup'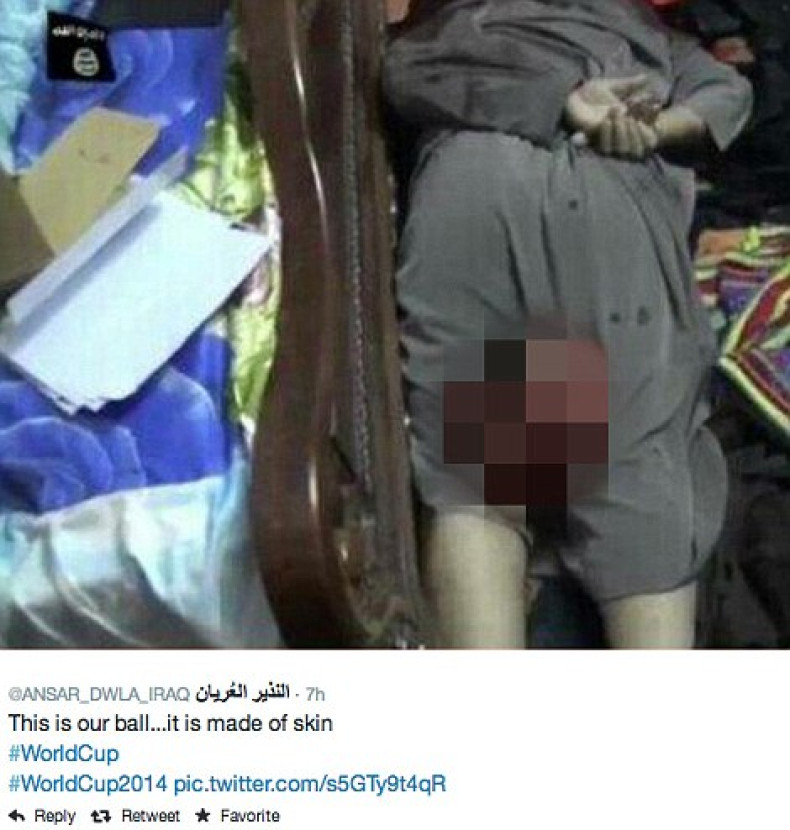 Shocking footage has emerged showing Sunni insurgents of the Islamic State of Iraq and the Levant (Isis) beheading a police officer.
In the clip, the militants knock on the door of the police officer's home at night.
After he answers, they blindfold him, cuff him and behead him with a knife.
After the decapitation, the militants took a picture of the officer's head and posted it on Twitter with the comment: "This is our ball. It's made of skin #WorldCup."
The brutal act has sparked outrage on Twitter.
The shocking video and the Twitter post emerged as the Isis insurgency in Iraq and Syria continues to claim lives.
Isis insurgents made headlines worldwide when they took control of Mosul, Iraq's second largest city, displacing hundreds of thousands of people.
Shortly afterwards, the militants imposed a strict set of Sharia laws on the citizens of Nineveh province, urging leaders not to "work with [the Iraqi] government and be traitors."
Isis vowed to march on Baghdad.
The Iraqi government has asked for US support to fight back against Isis.
President Barack Obama is currently reviewing the options, but has ruled out sending troops back into Iraq.
Meanwhile, thousands of Iraqi civilians are joining government forces to fight against the insurgents.
Several NGOs as well as Syria TV have claimed Isis are executing civilians in Syria.
Isis previously posted another video which depicted them shooting at motorists and pedestrians.