In the middle of a storm in late October a wayward paraglider was seen being swept on the wind from the Israeli-controlled Golan Heights into Syria. Panic erupted on the Israel side as the military leapt into action and other paragliders feared that a fellow enthusiast had been unwittingly carried into war-torn Syria.
But it has now emerged that it was no accident that 23-year-old paraglider Nedal Saleh crossed into Syria. Israeli internal security service Shin Bet has revealed that Saleh had been training to use the paraglider for months at a coastal sport club with his childhood friend Jihad Hijleh, and that this was their second attempt to cross into Syria.
Israel called off its search when it discovered that Saleh had deliberately flown into the town of Jamleh in Syria to join rebel group Islamic State (Isis/Daesh) that is in control of territory along the border with the Golan Heights, Syrian land that Israel has occupied since the end of the 1967 Six Day War.
Saleh is one of 40 Palestinian citizens of Israel, known as Arab Israelis, of which there are 1.4 million, who have joined IS in Iraq and Syria. Israeli intelligence claims that while in the past these recruits joined IS in order to fight Syrian President Bashar al Assad, now they were training to carry out attacks inside Israel.
It comes as IS has upped its rhetoric against the Jewish state, releasing its first Hebrew language video in October. In it a masked fighter proclaimed: "Not one Jew will remain in Israel."
"The reality is Islamic State is the most organised force in Syria. It has the most financial capabilities and frankly the most results in the field and [while] up until three months ago Israeli Arabs were joining to fight against Assad, [...] now we're seeing more anti-Israeli statements," said Aviv Oreg, former military intelligence officer who headed Israeli military's global jihad desk.
"The paraglider [Nedal Saleh] exposed the activity of this cell [which] was known to Israeli authorities. Several members had gone to Syria and come back and had received low punishments of one to two years."
There could be social rather than ideological reasons that Palestinians living in Israel are drawn to IS. As many as 47% of Arabs in Israel live in poverty, according to Israeli organisation Latet. Arab Israelis may have Israeli passports and can travel freely – unlike Palestinians in the West Bank and Gaza – but they remain poorer than their Jewish counterparts.
That said, even Oreg admits that there are only about 1,000 Arab Israelis that support IS and a recent survey, carried out by Professor Sammy Smooha of Haifa University, showed an overwhelming majority of Arab Israelis were ashamed or disgusted by IS, with only 18% disagreeing that the group was an extremist organisation.
But if there is a town in Israel associated with IS, then it is Saleh's home town of Jaljulia, north of Tel Aviv and home to some 10,000 Arab Israelis. Three weeks after Saleh crossed into Syria, five other men aged under 27 were arrested for planning to fly to Turkey and cross into Syria to join IS. Jaljulia is two hours' drive away from the Golan Heights.
While at first glance, the houses and streets of Jaljulia seem smart, the town features as one of the lowest on Israel's socio-economic indexes – with high unemployment and an estimated shortage of 500 houses as strict land zoning rules inhibit permission to build. Meanwhile, the elaborate facade of a white mosque with a gold-coloured top sits unfinished and open to the elements.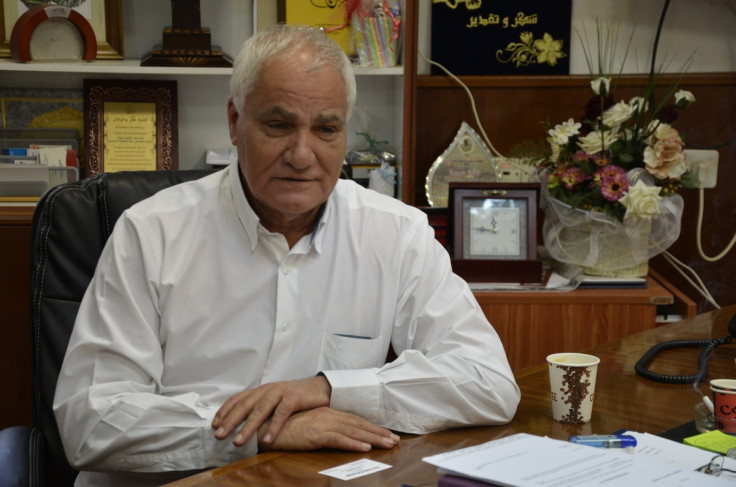 Fayik Odeh, Jaljulia's mayor, told IBTimes UK he was worried the reputation of the town had been tainted and it would now be branded as the home of "extremists". Odeh said Jihad Hijleh was the more ideological of the five Arab Israeli men arrested. He was religious and had spent six months in Syria before being jailed for one year on his return to Israel.
"These guys are not from poor families – they all have something to lose – land and houses if Israel choses to collectively punish their families," he said.
Odeh said Jaljulia which is surrounded by Jewish towns had not received the funding it needed to keep up services but that despite receiving fewer services than their Jewish counterparts inhabitants were doing their best.
"When the budget was announced two weeks ago in the Knesset (the Israeli parliament), Arabs did not get any more funding. While we are being discriminated against we are good citizens of Israel," he added.
Until now no collective punishment has been meted out on any of the families of the six men, but Israeli Prime Minister Benjamin Netanyahu announced after the paraglider incident that anyone who travelled to Syria to join a terror group would be stripped of their citizenship. The attorney general is believed to be looking at any legal implications of the law, but Netanyahu wants to push ahead regardless.
The Hijleh family owns a supermarket near the entrance to the town, and claims to have lost 60% of its business as Jewish Israelis from neighbouring towns are boycotting it.
A cousin, Odeh Issa Hijleh, said he had picked up extra shifts since three of the Hijleh brothers – Jihad, 27, Ehab, 22 and Anas, 19 – his cousins, were arrested. "I know they did nothing wrong. But if it's true that they did it, then I do not support it," he said.
Odeh admitted his cousin had fought in Syria for six months and been arrested, but said his cousin was helping with the Free Syrian Army in a humanitarian capacity.
"What is happening in Syria is unjust – innocent civilians are being killed by Islamic State and Bashar. I am sure my cousins will be released," he added.
Nearby two Arab Israeli workers commented that the town has been given a bad name: "We are not extremists, we can't be judged by these guys – they don't represent the rest of us," said Abed.
Jaljulia is clearly scarred by the arrest of the young men. It has divided opinion and left most people tight-lipped. In the local hummus shop in central Jaljulia a 19-year-old worker was told to "shut up" by his boss when he slammed the actions of the arrested six.
"Nedal is a donkey – nobody supports Daesh and everyone knows that they are against Islam, but he joined them anyway".
Their fear is that there's a lot at stake after the arrest of the IS six, a fear that speaking about the activities of the young men will give Israel greater excuse to discriminate against the residents of the town in a similar way to the Israeli Government's recent bans on the northern branch of the Islamic Movement in Israel and the banning of Muslim activists groups present in the compound housing al-Aqsa mosque in Jerusalem's Old City.