The parents of a Palestinian teenager who was burned alive in a brutal revenge attack in Jerusalem in 2014 have said the decision to postpone the sentencing of alleged ringleader Yosef Haim Ben David by an Israeli court felt like reliving the day that their son, Mohammed Abu Khdeir, was murdered.
The Jerusalem District Court found two Israeli youths guilty of murder on 30 November but accepted an 11th-hour petition by David's lawyers to delay his sentencing on grounds of insanity. The 31-year-old will not be convicted of the murder – which he has previously admitted – until a further psychiatric evaluation has been carried out.
"It made me relive my son's murder, I went back to the time they burned him - we haven't had any justice for him and we won't," said Mohammed's mother, Suha Abu Khdeir, at the family home in Shuafat, East Jerusalem. "I was in shock when the verdict was announced in court, I am still in shock now - I can't really express it."
It is not the first time Ben David's lawyers have attempted to prove that he was not responsible for his actions on 2 July 2014, when he and the two minors – who have not been named – abducted Mohammed from outside a mosque near his home in Shuafat.
Footage captured on surveillance camera showed a car pulling up outside the mosque and the teenager being pushed into the vehicle. The court heard he was then beaten and had petrol poured down his throat, before being set alight.
His family immediately reported him missing and his charred remains were found just a few hours later in Givat Shaul, in the Jerusalem Forest. The murder sparked an uprising in East Jerusalem referred to by Palestinians as "the Abu Khdeir intifada" and violence spread to cities across Israel and the West Bank.
Four days later, police took six Jewish Israeli suspects for interrogation. Ben David confessed, incriminating the two minors. Within a day, three had confessed and re-enacted the murder scene, while the other three suspects were released. They admitted the murder was a revenge killing after the murders of three Israeli teenagers in the West Bank, whose bodies had been discovered near Hebron a day earlier.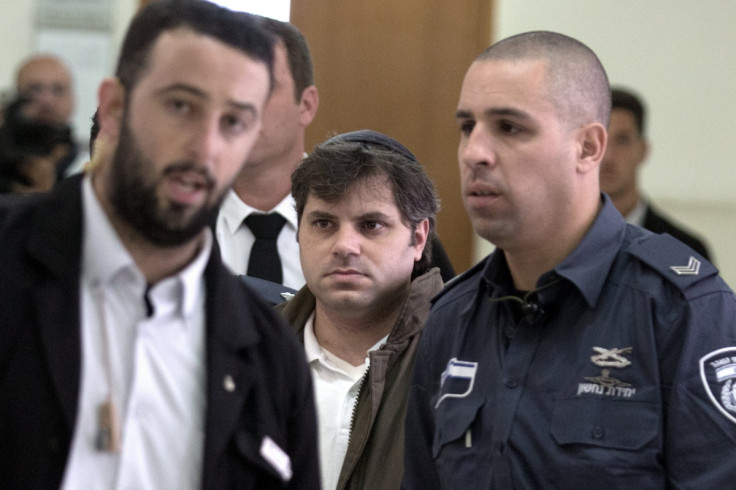 During the trial, the two minors turned against Ben David, blaming him saying he had given them pills before the killing, but the court viewed a surveillance tape of Ben David and the two minors preparing to carry out the murder, by practising punches and strikes. Mohammed's murder contributed to the breakout of the Israel-Gaza war on 6 July.
The teenager's father, Hussein, told IBTimes UK how he had sat through numerous sessions in court and that he rejected the verdict and hoped the judge would dismiss a report purporting to show Ben David was insane. He said life would be the only fair sentence for the three men who killed his son and rejects the insanity plea. "Every time I go to the court and see the ones who burned my son, my heart burns," he said.
The lawyer for the Abu Khdeir family, Mohannad Jabara, said the presentation of a psychiatric evaluation was a delaying tactic. He said: "The family are very disappointed – they said to me today: 'Any Palestinian who does something to a Jewish Israeli is dealt with on the spot – he is killed or judged and punished on the spot – but on the other hand our son was burned alive and even after a year and a half we still haven't received our judgment' - I think he's right."
Outside the court, a group of Abu Khdeir family members were holding posters with Mohammed's image on them as the verdict was delivered. "The verdict is a joke. The lawyer representing the murderers was screaming at the judge and mocking him," said Aisha Abu Khdeir, an aunt of Mohammed. "They already confessed to everything during a videotaped interview. This verdict creates more agony and most suffering for us."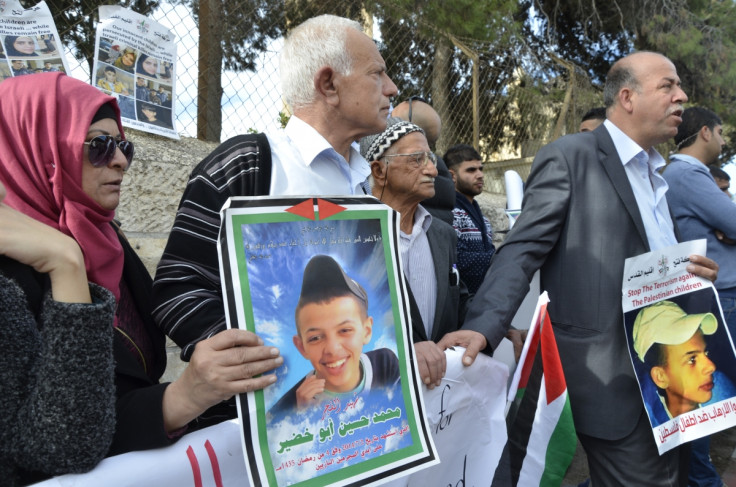 His cousin, also name Mohammed Abu Khdeir, dismissed the verdict. He said: 
"The burned by cousin alive in court again today, he was killed all over again in that court room." A cousin, Hassan Abu Khdeir, said he had hope the court would convict all three. He said: "I had hope, I was surprised - I thought it was going to be better, but I knew the trial was against us. They have drawn this out."
Another cousin, 28-year-old Ansam Abu Khdeir, believes the legal defence had employed a loophole by pleading insanity, which would prevent a life sentence and allow for him to be kept in a psychiatric facility: "There is no justice in Israeli – it has always been this way, every Israeli who kills a Palestinian is deemed mentally unsound."
Ansam remembers her cousin as the "naughty guy" in the family and a social person who filled the house with laughter: "We really miss him, since July last year we've felt like something major is missing in our lives. Our parents are all suffering – they can't sleep and are taking medication to help them sleep."