Isis Jihadists Barter for Yazidi Girls at Slave Market in Chilling Video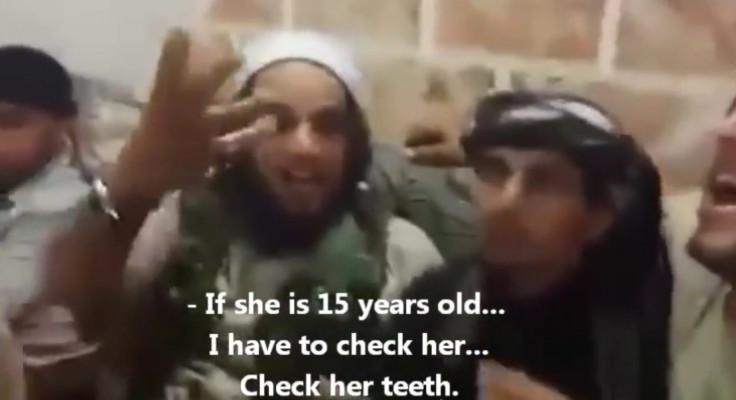 A disturbing video showing Islamic State (Isis) fighters laughing as they discuss the selling and buying of Yazidi women has emerged online.
Thousands of women and young girls from the Iraqi tribe were abducted and forced into slavery by the extremist militants after they stormed into villages in northern Sinjar region.
In video footage uploaded on YouTube, several Islamist fighters are seen as they negotiate the purchase of girls as young as 15 in exchange for money or guns.
"Today is the slave market day," a man is heard saying, according to a translation by Middle Eastern television channel Al Aan TV.
"Today is the day of slaves and we should have our share," another one says. "Where is my Yazidi girl?" he repeatedly asks, looking into the camera with a grin.
As potential seller comes forward, saying he has a slave girl to give away, fighters starts discussing terms of transaction, offering three to five "banknotes" - each believed to be worth $100 (£63) and other values.
"The price differs if she has blue eyes," one says.
"I will sell her for a Glock [pistol]," the seller replies.
"If she is 15 years old, I have to check her, check her teeth," another man says.
According to Al Aan TV, the video was shot somewhere in Mosul, Iraq's second largest city, which was seized by Isis in June.
The video could not be independently verified, however Isis militants have admitted to enslaving and selling Yazidi women, claiming the horrifying trade is justifiable on religious grounds.
Yazidis are considered devil-worshippers and apostates by the Sunni extremists as they profess a religion that dates back to ancient Mesopotamia and combines elements of Zoroastrianism with Sufi Islam.
An article in the last issue of English language Dabiq magazine - the militants' propaganda tool - Isis said that Yazidi women and children captured during the military offensive in Sinjar were divided among fighters "according to sharia law".
The militants were then free to sell their slaves onto others. Thousands are reported to have been locked up in brothels in Iraq and Syria and forced into sex slavery.
© Copyright IBTimes 2023. All rights reserved.