Isis Launches Monetary Jihad with Dinar Gold Currency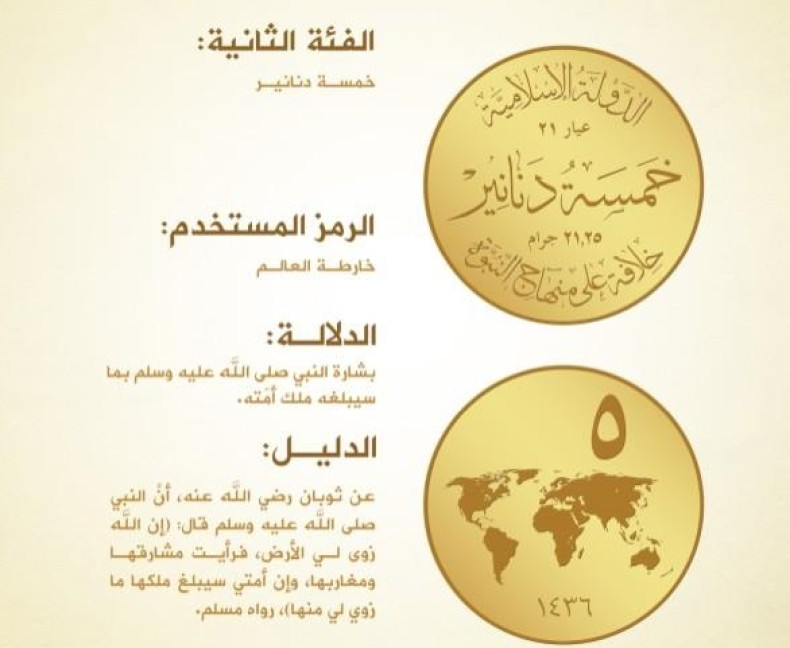 The Islamic State (Isis) announced it is to introduce a new coin-based currency in the territories it controls across Iraq and Syria.
The 'treasury department' of the jihadi group said it is to start minting gold, silver and copper to produce new money named Dinar.
Details of the new currency were circulated online, alongside images showing the planned design of the future coins.
The announcement came as the Islamic State is enhancing its effort to be perceived as a proper state rather than a militant group.
The extremist group said the Dinar will help rid Muslims of the "satanic usury-based global economic system".
The new currency will remove the self-styled caliphate "from the tyrannical monetary system that was imposed on the Muslims and was a reason for their enslavement and impoverishment," the group claimed in a message, translated by SITE Intelligence Group.
IS Dinars will come only in three cuts of round-shaped coins: solid gold, silver and copper. No banknotes will be issued, according to the group.
Gold Dinars were the currency used during the historic Caliphate of Uthman in the 7th century AD.
Jihadists' loathe for the Fiat monetary system and the global economy was also highlighted by al-Qaida in October.
The Islamist group that rivals IS for the world leadership of Jihad, urged its followers to avoid using banks and the financial markets as they were the expression of the "Crusaders' globalisation".
In its English-language online magazine, Resurgence, al-Qaida said Islamist militants should resort to ancient transaction methods, reinstating gold and silver as "standard mediums of exchange".
Meanwhile, IS has released an audio message purportedly from its self-styled Caliph Abu Bakr al-Baghdadi, calling for jihadists to carry out attacks against Muslim Shi'ite and Westerners.