The offshoot of Islamic State in Libya has published propaganda online of its forces in a show of strength in the coastal town of Harawa, a strategic position it has held since the start of June.
A number of technical vehicles, pickup trucks mounted with anti-aircraft guns, are shown in images posted by supporters of the extremist group.
In one picture masked Islamic State fighters are seen policing a checkpoint, presumably on the outskirts of Harawa. In another they are seen trashing a Libyan government building and burning Libyan independence flags, one of the last enduring symbols of the country's 2011 revolution.
Harawa is one of the key towns held by Islamic State in Libya in the enclave which it has carved out in the centre of the country from Sirte to Nawfliyah, a former Gaddafi heartland.
Islamic State took control of Harawa in early June in part of a wider battle against forces loyal to Libya's Islamist-leaning government in Tripoli. Crucially, its foothold in the town gives IS access to the country's southern oilfields, which have been the site of sporadic clashes in recent months.
In March Islamic State militants kidnapped nine foreign oil workers and beheaded eight guards at al-Ghani oilfield in a bloodthirsty display which has become their calling card throughout the world.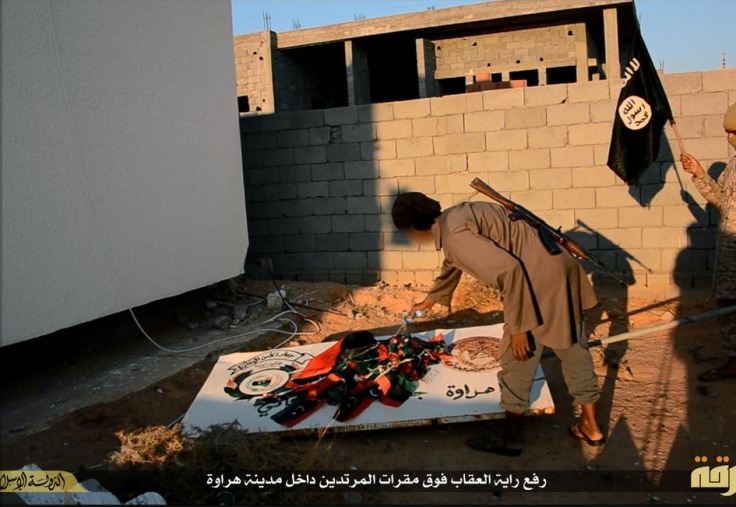 Jamal Zubia, a spokesman for Libya's Tripoli government told IBTimes UK that an offensive against the Islamic State in the centre of the country was planned before the end of the month and added that air strikes by Libya Dawn forces loyal to Tripoli were ongoing in Nawfliyah, Harawa and Sirte. Other than this he said there was "little news from Harawa".
Islamic State has been pushed on to the back foot in Libya after loosing its long-held stronghold of Derna to Al-Qaeda linked militias.
Some of the worst atrocities in Libya have been carried out by IS in Derna. At the beginning of June, the militant group beheaded a postal worker who it claimed had volunteered to fight with the Libyan National Army.
The jihadi group has increasingly targeted migrants working in Libya or those travelling through the country to board boats to Europe. In February, IS executed 21 Egyptian Coptic Christians on a Libyan beach. In April, the group beheaded 30 Ethiopian migrants and published propaganda showing the murders online.
IS has exploited a political vacuum in Libya over the past year, using a stalemate between the country's two rival governments to exert its control. A number of Islamist militias, remnants of Libya's 2011 liberation war, have allied themselves with the group.