The Islamic State (also known as ISIS) militant group has released a letter purportedly written by US journalist Steven Sotloff to his mother before he was brutally executed.
The letter that was published in the official IS magazine, Dabiq, along with an article it said was penned by a British photojournalist currently held hostage by the group.
Both releases were arguably aimed at putting pressure on the US and British government to change their policy towards the Islamist militants and have most likely been edited to serve their propaganda purposes.
In the letter published by Dabiq, Sotloff pleads with his mother to pressure the White House in halting airstrikes against IS positions in Iraq and Syria.
"To Mom, I do not have much time and will probably not get this opportunity again, so I would like to get straight to the point," the letter read.
"Your recent public video of pleading to the Caliphate not to kill me has been received loud and clear by them. However, this in itself is not enough to save me".
Days before Sotloff's execution, his mother, Shirley, had released an emotional video appeal urging the group to spare her son's life.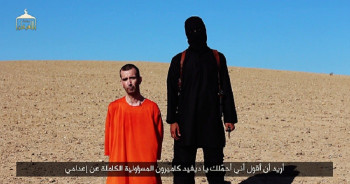 In September, IS uploaded online a video showing the 31-year-old freelance journalist as he was beheaded by a masked militant. The group said the killing came in retaliation for US airstrikes.
In its fourth issue, the IS mouthpiece publication also ran an article purportedly written by John Cantlie, in which the British photojournalist who was kidnapped in Syria in 2012, called on the British and American government to change policy and negotiate for hostages' release.
Cantlie, who recently appeared in four video-leectures posted online by his captors, wrote he fears he will be next to die, after witnessing the killings of Sotloff and other fellow hostages, US journalist James Foley and British aid workers David Haines and Alan Henning.
"Four of my cellmates have already been executed by the Islamic State in the most visceral way possible after the British and American government apparently made a joint decision not to discuss terms for our release," the article read.
Cantlie wrote it was "a bitter pill to swallow," to see other European hostages being freed allegedly following the payment of ransom money "while we, the British and Americans, were left behind."
"To my darling wife, my friends in the media and my family: let our political leaders know it doesn't have to be this way," he wrote. "For now, I am still alive, but at some point in the near future the mujahidin will surely run out of patience.
"Death holds no fear over me; I have lived beneath its wings for a long time," he added.
"But if that is to be my final destination, I would rather look it in the face knowing this was a fair fight and not a hollow capitulation."
Analysts said they believed the article was genuine. "If you look at the way it's set out, the way it's written and the state of mind of somebody that has been there for two years, I think it's probably him," Olivier Guitta, a security adviser who was previously director of research at the Henry Jackson Society, told The Times.
"The article can be viewed as propaganda but at the same time it's very rational."
London and Washington maintain they do not negotiate with hostage-takers as payouts are then used to fund more attacks against western targets.