The Islamic State (Isis) is arguably the world's deadliest terror group, especially after militant group Boko Haram pledged allegiance to Daesh (IS) in March 2015.
According to a survey published by Le Monde, since IS proclaimed its "caliphate" in June 2014, the group and its affiliates have been responsible for 83 terror attacks and hostage executions in just 18 months.
These actions both draw the outline of the geographical location of the jihadist organisation, the evolution of its strategy, its targets and its relations with the West, as well as the gradual expansion of its regional support.
1600 deaths
In nearly 18 months, IS and its affiliates have killed more than 1,600 people worldwide through around 83 terror attacks outside its territory and hostage executions, often committed in the Iraqi-Syrian desert.
The staggering number of victims is calculated outside of IS conventional military operations against armies or genocidal killings in Iraq and Syria.
Broadening targets
IS has gradually exported its battlefield outside of its territory (Syria and Iraq), by broadening the spectrum of countries targeted by its attacks to over 20 nations.
Egypt is the country the most affected by Isis, with regards to the number of victims, followed by France.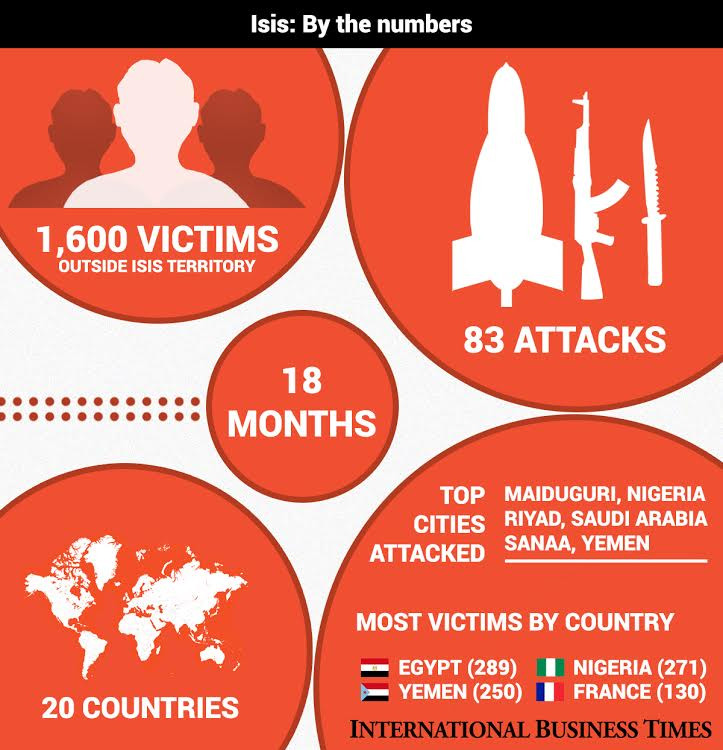 Most-targeted cities
Maiduguri, capital of Nigeria's northeast Borno state and the birthplace epicentre of Boko Haram's insurgency, tops IS's most-targeted cities leaderboard after it was hit eight times since Boko Haram swore allegiance.
Riyadh and Sanaa, capitals of Saudi Arabia and Yemen respectively, come in second and third place on this sinister ranking.
Following the January attacks against satirical magazine Charlie Hebdo and a Kosher supermarket claimed by Isis supporters and the 13 November massacres, Paris has become the most targeted Western city.
52 claimed attacks, 35 non-attributed
It is not always easy to link each attack, and a fortiori each attempted attack, to IS.
For a long time, the organisation headed by Abu Bakr al-Baghdadi has urged isolated individuals to take action and a number of attacks were committed by individuals who claimed to be part of the jihadist group, without IS claiming responsibility for their attacks. This was the case of Man Haron Monis, an Iranian-born refugee Australian citizen who took hostages in a siege at the Lindt Chocolate Café in Sydney in December 2014.
The terrorist organisation has never claimed failed terrorist actions – such as the Thalys high speed train attack between Amsterdam and Paris, during which gunman Ayoub El-Khazzani fired a Kalashnikov, before being overpowered by two American passengers.
In April, Afghanistan's President Ashraf Ghani said IS militants were behindthe blast that killed at least 33 people and injured more than 100 in the country's eastern city of Jalalabad – but militants claiming allegiance to IS in Afghanistan denied being behind the suicide attacks.
Finally, Boko Haram (renamed Islamic State's West African Province, Iswap), which accounts for 23 attacks and 418 deaths since its allegiance, only rarely claims responsibility for its attacks. However, the Nigerian government often attributes it attacks because of the attackers' modus operandi – suicide attacks and bombs.