The militant Islamist group Boko Haram has committed a third atrocity in Nigeria's troubled Borno state in under a week, massacring "scores" of civilians in the town of Damasak 116 miles from the state capital Maiduguri.
Eye-witnesses reported a large number of Boko Haram militants enter the town on Toyota Hilux trucks and motorbikes armed with petrol bombs and improvised explosives. Many civilians were killed and many others fled north into Niger as the Islamists set fire to houses.
The situation is ongoing and the picture confused. Other witnesses told the AFP news agency the militants had entered the town disguised as soldiers before attacking traders in the market. Government officer Mohammed Damasak said the group concealed their weapons in containers before opening fire.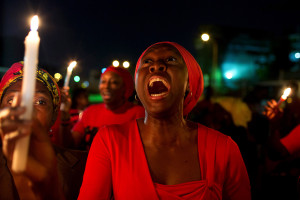 "They pretended to be traders but sadly inflicted horror," said Damasak. "Many traders escaped with bullet wounds while many are lying dead at the market."
Reuters is reporting that militants continued to prowl the town hours after the initial attack, despite the fact government soldiers have now reached the scene.
A witness called Bukar Aji told Reuters from the village: "The insurgents came at about 9.00 am and fired shots into houses to force people out. They are still there up till now and still firing shots. Many people may have died. I am talking to you now from the bush."
The attack on Damasak is the third in under a week in Borno. Last Thursday Boko Haram ambushed around 48 fishermen and killed them by tying them up and throwing them into Lake Chad. Last Wednesday the militants entered the village of Doron Baga and massacred civilians with guns and knives. In all around 100 people have died in the three attacks.
Around 13,000 have died and hundreds of thousands fled the region since Boko Haram began its campaign of violence in 2009. Earlier this year the group abducted hundreds of schoolgirls from a school in Chibok and are believed to have sold many of the children into slavery.