Isis: Photos claim to show leader Abu Bakr al-Baghdadi make rare public appearance in Fallujah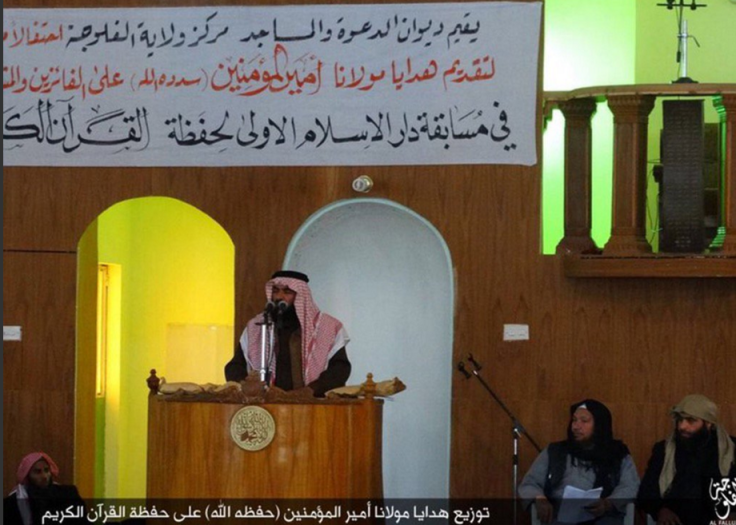 Isis leader Abu Bakr al-Baghdadi appears to have been photographed addressing a mosque in Fallujah, despite many believing him dead. Images released by Isis claim to show its leader, who is one of the most wanted men in the world, speaking with children at the mosque and reading from the Quran.
The last time Al-Baghdadi was seen on film was in July 2014 in Mosul, and has allegedly only appeared in public once since declaring himself the caliph of the Islamic State, leading to reports that he may have been killed or injured in an airstrike.
Photos claim the Isis leader addressed a group of children
Twitter
However, the notion that Al-Baghdadi was incapacitated had always been refuted by Isis, with sound recordings purportedly of the leader released at intervals seemingly confirming he remains in his position.
There is currently a $10m dollar bounty on the Isis leader's head, causing some of the group's followers to denounce the photos as being those showing Al-Baghdadi's 'double' and not the leader himself.
In a post on Twitter, TracTerrorism shared a post said to be from an Isis account that read: "Khalifa Ibrahim's double, which makes sense – risk for public appearance."
A total of $30m dollars has been put up by the US government as a bounty on the heads of any of the top wanted Isis members, with the largest amount reserved for Al-Baghdadi.
© Copyright IBTimes 2023. All rights reserved.