An Islamic state (Isis)-linked Twitter account has posted pictures of what appear to be jihadists smashing crosses and defacing holy statues, Christian murals and paintings at a Chaldean Catholic monastery near Mosul.
The photos, published under the IS media office logo, depict IS militants engaged in pulling down the giant cross on top of the Mar Gorgis (St George) monastery north of Mosul and replacing it with the IS black banner flag. They also took hammers to the tiled murals of St George and the dragon and what appears to be Virgin Mary with baby Jesus.
Other IS fighters appear to be busy destroying iron crosses in the monastery, holy statues, crosses in the nearby cemetery and a giant statue representing St George and the Dragon. Another picture show the jihadists cheering as they throw the church bells to the ground. Holy paintings, including a Last Supper one, are seen piled up near a dustbin.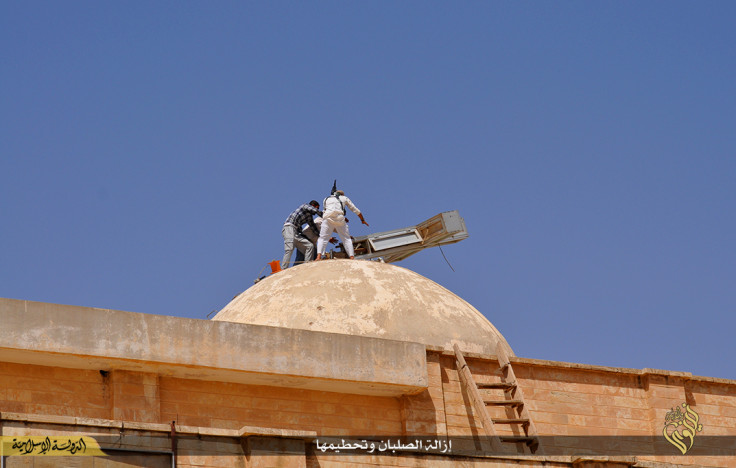 The pictures emerged after reports suggested that the monastery had been blown up by the Islamic State. Nineveh Yakou, , Assyrian Archaeologist and Director of Cultural Heritage and Indigenous Affairs at A Demand for Action, told IBTimes UK that St George monastery had been "wiped out by IS militants".
The building, located on the Ba'werah neighbourhood on a hill north of Mosul on the other side of the Tigris river, was founded by the Assyrian Church of the East on the 10th century, but rebuilt as a seminary by the Chaldean Catholic Church in 1846.
"The current monastery was built on an archeological site containing ancient Assyrian ruins. It was an important show of continuity from the Assyrian to our culture," Yakou said.
"Isis is wiping out the cultural heritage of Iraq. The monastery was classified as cultural heritage. It's a cultural and ethnic cleansing."
The attack on the monastery came after IS militants reportedlybulldozed the 2,000-year-old city of Hatra and the Nimrudarchaeological site near Mosul.
Two weeks ago, the jihadist group published a video showing militants destroying artefacts in a Mosul museum and at the Nergal Gate to ancient Nineveh, taking a sledgehammer to artefacts.