The Islamic State (Isis) released a new propaganda video featuring a boy who claims he is the son of a US soldier.
The boy, who speaks fluent English in an apparent American accent, is identified as 10-year-old Yusuf who said he moved to Syria with his mother two years ago.
"My father's an American soldier who fought the mujahadeen in Iraq," the boy says. "I didn't know much about Islam except the name. When me and mom came to the Islamic State, we started learning the correct Islamic creed."
According to NBC News, who could not verify any information about the boy, Yusuf appears to be reading from a script at some points. He claims to live in Raqqa, Isis' stronghold in Syria.
The US estimates that 2,000 Isis fighters remain in Raqqa as US-backed forced continue to press on.
The seven-minute video cuts to shots of Yusuf playing with his seven-year-old best friend, Abdullah, from the northern Iraqi town of Sinjar, in a deserted playground and loading an assault rifle with footage of Isis fighters getting ready for battle.
The boy also mentions US President Donald Trump, who he calls a "puppet of the Jews," and threatens the US. He says the airstrikes against Isis will move to the West and promises Trump that the battle will "end in your lands".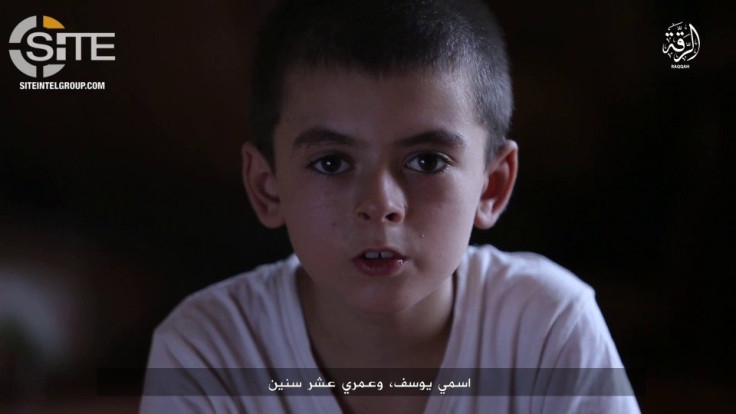 "We are aware of this recent Isis video," a US counterterrorism official told NBC News. "Isis often features foreign fighters in its propaganda to portray its movement as having a diverse and multiethnic composition. Isis also seeks to use its propaganda to deflect attention from its dwindling territory."
Laith Alkhouri of the security firm Flashpoint told NBC News that this is the first child purported to be American to feature in an Isis video.
"It wants to send the message that it's spoon-feeding its ideology to American children whom the US has no power over," he said.
"Isis wants the world to believe that life in Raqqa is stable and that it can protect the people it proclaims to represent. The fact is, life in Raqqa is dangerous and brutal, and Isis' control over there is diminishing by the day."