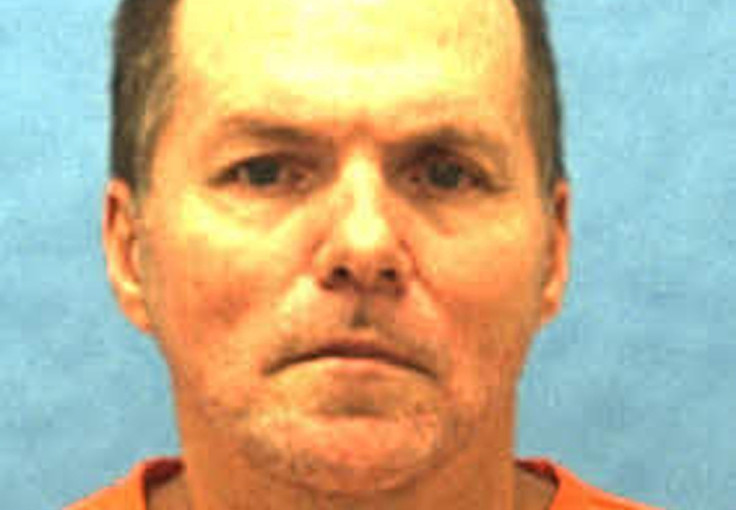 Florida is expected to execute a while man on Thursday (24 August) for the murder of a black person for the first time in the state's history. 53-year-old Mark Asay will face a lethal drug never before used in a US execution.
Barring a stay, Asay is set to die by lethal injection after 6pm for two racially motivated, premeditated murders in Jacksonville in 1987, CBS News reported. Asay's execution is the first in Florida since the US Supreme Court halted them in the state nearly two years ago.
Florida is expected to use etomidate, an anesthetic approved by the Florida Supreme Court, and two other drugs in the execution. It will be followed by rocuronium bromide, a paralytic, and then potassium acetate, which stops the heart.
Governor Rick Scott initially signed Asay's death warrant in January 2016, the Palm Beach Post reported.
Asay, who is white, shot and killed a 34-year-old black man named Robert Lee Booker after calling him a racial epithet. He later killed a 26-year-old man named Robert McDowell, who Asay had hired for sex. Prosecutors said Asay shot McDowell, who was dressed as a woman, six times after discovering his gender.
Asay was found guilty of two counts of first-degree murder by a jury, which recommended the death penalty with a 9-3 vote.
According to the Palm Beach Post, the Florida Supreme Court rejected a major appeal by Asay last week. Asay had challenged the new lethal-injection procedure, which has never been used before.
The court also rejected another attempt at a reprieve this week, with justices acknowledging the court had mistaken McDowell's race for more than two decades. McDowell was "known to friends and neighbours as Renee Torres," the justices acknowledged.
"Torres was identified at trilby everyone who testified as white and Hispanic. Renee Torres nee Robert McDowell may have been either white or mixed-race, Hispanic but was not a black man," the Supreme Court said. "We regret our previous error."
Despite acknowledging its mistake, the Florida Supreme Court said "this fact does not negatively affect this court's final determination".
CBS News reported that Asay would be the first white man to be executed in Florida for killing a black man. Meanwhile, at least 20 black men have been executed for killing white victims since the death penalty was reinstated in Florida in 1976.