Three British runaways who joined Islamic State (Isis) may face execution following reports they have fled their new husband's homes, an expert has warned.
Shamima Begum, 15, Kadiza Sultana, 16, and Amira Abase, 15, flew to Istanbul from Gatwick Airport last month, crossing into Syria. Confirming fears that the teenagers had joined the Islamist militants, two months after leaving her home in East London, the British schoolgirl posted a picture of herself enjoying a takeaway dinner with another jihadi bride just over a fortnight ago.
However, the 'jihadi brides' are now believed to have been reported missing in the city of Mosul.
An anonymous blogger in Iraq, revealed the girls had fled on May 2 through his Facebook page which he set up 'to communicate what's happening in Mosul to the rest of the world, minute by minute from an independent historian inside Mosul'.
Writing on Mosul Eye he said: "Three girls, (Foreigners - British) married to ISIL militants, reported missing, and ISIL announced to all its check points to search for them. It is believed that those girls have escaped.
In a later post he added: "The latest info I got on them is they are still on the run, but still in Mosul, and ISIL is thoroughly searching for them and hasn't captured them yet. They are Brits, not immigrants, and they are very young teens (around 16 years old). That's all I have about them for now."
On 12 May, the blogger said the identity of the missing girls has not been confirmed.
"We cannot confirm, as of yet, if those girls were the same trio mentioned in the British media, as their identities still unknown to us," he wrote.
Raffaello Pantucci, director at the International Security Studies at the Royal United Services Institute, a specialist on the Middle Eastern extremist group, said he feared that if the girls are tracked down by the terror group they will almost certainly be publicly executed.
He said: "If you look on past form, [Isis] have jailed people... or they've simply executed them. They've quite publicly executed people who they say were trying to defect or became spies in some way and they've punished them with death. I can't think of cases where they have executed jihadi brides but it's possible they could execute them too.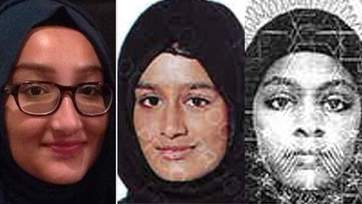 "What we don't know is what they're being accused of or why they ran away at the moment, whether its apostasy, abandonment, or adultery from their husbands, it's difficult to know exactly what is happening."
He added that the girls have little chance of survival on their own in Mosul. "The terrain [around Mosul] is treacherous. It would be very difficult for three small girls. I don't know how good their Arabic was, I don't know if they know the area or how much money they have. But if they have managed to escape and they are now trying to find a safe place to go then they're in for a very tough time."
But a lawyer for the trio's family denied they were on the run, insisting most recent reports from them suggest they are living 300 miles away from Mosul in the Syrian city of Raqqa, Isis' de-facto capital.
Responding to the reports, Sharmeena Uddin's father said he hopes his daughter has now fled ISIS.
Speaking from his East London home, Mohammed Uddin, 38, said: "I hope that it is Sharmeena because she's 16 at the end of the month. Maybe it's her. I hope it is."
Yasnime Akunjee, who represents the girls' families, said there is nothing to suggest the British teenagers are on the run.
"According to our own sources the girls from Bethnal Green remain in Raqqa and are not being pursued by any parties. The families heard from me that it is extremely unlikely to be them. The blog might be right about other girls, there's a number of other girls out there. From my sources, it's not them."
The lawyer added: "The families have mixed feelings. One does not want their daughter going on the run from the most known terrorist organisation in the world in their own territory. But the families want them back."
The girl's families have had no recent communication with the girls since they left their homes in East London.
While the families on Amira Abase and Kadiza Sultana refused to comment on the development, Home Secretary Theresa May told ITV1's Good Morning Britain that some Britons who went to Syria or Iraq to join Isis do attempt to return to the UK after becoming disillusioned.
"Obviously there are young people who go to Syria, some of whom find that what they see there is not what they thought it was going to be. We look on a case-by-case basis, and people have come back - youngsters who have gone there and suddenly realise what a mistake they've made."
The Foreign Office is investigating who the trio might be. A spokesman told the MailOnline: "We are aware of reports and are looking into them."