Shocking pictures have been released showing ISIS militants throwing two men off a tower block. Their 'crime' is that they are gay.
The graphic images, which were uploaded to Justpaste.it by jihadists and circulated on social media sites by IS-affiliated accounts, reveal the brutality of the Islamist group who have been coordinating a reign of terror throughout Syria and Iraq.
According to ISIS' radical interpretation of Sharia law, "engaging in homosexual activities" is regarded as a crime punishable by death.
One image shows a crowd gathered at the bottom of a tower block to witness the death of the two men. The charges against the accused were announced by a masked Islamic State fighter, using a small handheld radio. Reading from a list, he declares the men are guilty of engaging in homosexual activities and should be punished by death, in accordance with Sharia law.
In a second photo the man's body is shown on the ground after he is hurled from the rooftop.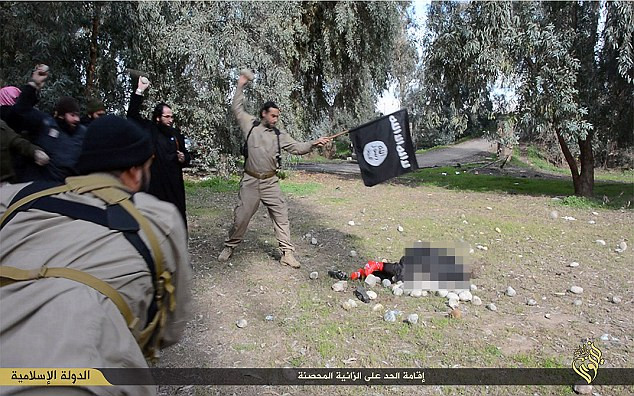 A woman in a burqa is seen being stoned by a group of Islamist militants in a sickening attack. Large rocks are hurled at her till she falls down dead, after which we see her body covered in a blue tarpaulin.
In another disturbing image, two blindfolded men accused of banditry are strung up to crosses in a modern day crucifixion. They had been tied up and transported in the back of a white pickup truck to the public execution site in the Iraqi city of Mosul, flanked by two masked IS fighters, dressed in khaki military fatigues.
The victim's blindfolds appear to have partially slipped from their eyes, allowing them to see the hostile, baying crowd of men surrounding them to watch the horrifying spectacle.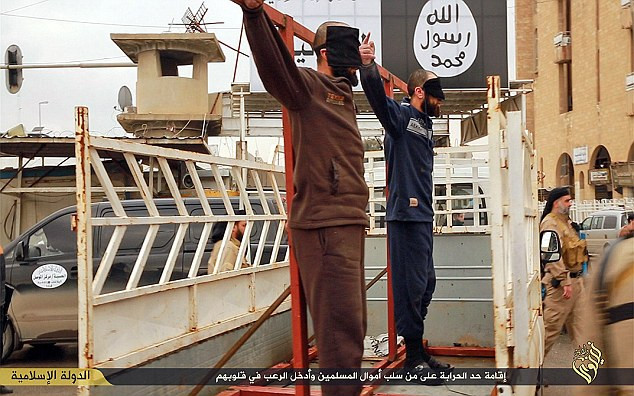 The fighters then shoot the victims dead, leaving their motionless bodies tied to the makeshift metal crosses to the apparent delight of the crowd.
It is not the first time Islamic State have released photographic evidence of the horrific execution of homosexuals in Iraq. In December 2014, photos emerged on social media showing a man, accused of being homosexual, being thrown to his death from a rooftop by eight IS fighters.
In November ISIS proudly released images of a similar execution, where fighters threw a man off the roof of a building before stoning him to death for being gay.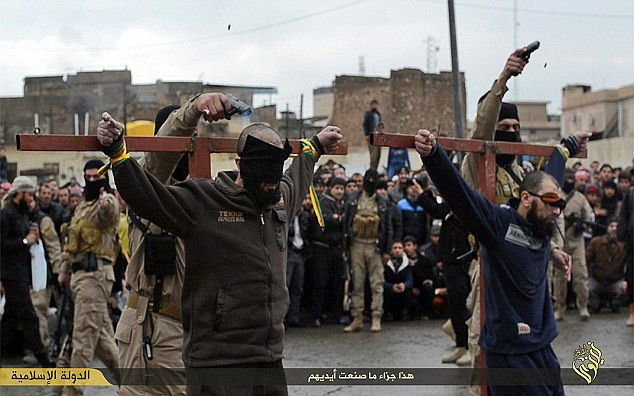 The latest images have emerged as it was confirmed that several hundred US military trainers will begin moving to the Middle East in the next four to six to start training for moderate Syrian opposition forces who will battle Islamic State fighters.
The US military has said it is planning to send more than 400 troops, including special operations forces, to train Syrian moderates outside the country.