Two Russian pilots have been killed after their helicopter was shot down by Isis (Islamic State) fighters over Syria. The Russian Ministry of Defence confirmed that the Mi-25 helicopter was brought down over Palmyra, Homs yesterday (8 July).
The crew had successfully thwarted advancing terrorists, but were struck as they returned to base.
An official statement from the Ministry of Defence said: "On July 8, Russian military pilot-instructors Evgeny Dolgin and Ryafagat Khabibulin, were conducting a calibration flight on a Syrian Mi-25 (export version of the Mi-24) helicopter loaded with ammunition in the province of Homs.
"The crew received a request from the Syrian command group to help defeat the advancing terrorists and fire for effect. The captain of the aircraft, Ryafagat Khabibulin, made the decision to attack.
"Having spent their ammunition, while turning back to the base, the helicopter was shot down by terrorists from the ground and crashed in an area controlled by the Syrian government. The crew did not survive."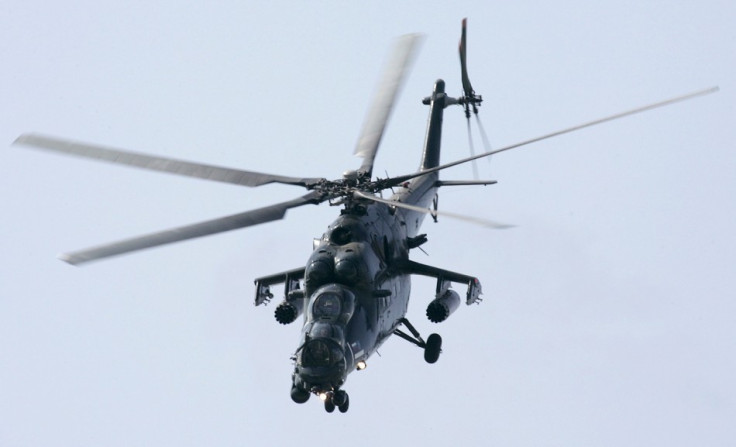 The Ministry said that both pilots will posthumously receive state awards for their actions Mail Online reports. A statement from IS (Daesh), translated by the ISIS-affiliated Amaaq news agency, confirmed the attack. It read: "By Allah's grace alone, the soldiers of the Khilafah launched an attack with heavy weapons on Nusayri regime locations east of the silos in Tadmur city.
"The Mujahidin managed to take control over three checkpoints of the apostates, where afterwards, one of the knights of the shahada managed to advance with his booby-trapped BMP and blow it up amid a gathering of elements from the army and the Rafidi militia elements that support them, killing and injuring dozens.
"In the meantime, the soldiers of the Khilafah shot down a Russian helicopter as it attempted to raid their locations, which led to destroying it and killing those on board and all praise is due to Allah."
To date, 10 Russian military personnel have died during the Syria conflict.