The Islamic State (Isis) has threatened to destroy the Sphinx and the Egyptian pyramids in its latest pledge, made on video, to step up their attacks on ancient cultures. It follows Isis (Daesh)'s recent destruction of other 'heretical' sites in Nimrud, Mosul and Palmyra and is part of their hard-line interpretation that pre-Islamic culture is 'blasphemous'.
The video affirmed that Isis (Daesh) believe that it is their religious duty to destroy the Egyptian pyramids and Sphinx. The extremists currently have a presence in Egypt's Sinai Peninsula, which they have claimed as the territory "Wilayat Sayna".
The group also said they were responsible for downing the Russian A321 airliner, above the Sinai desert in October 2015, killing all 224 people on board.
The destruction of ancient sites have been condemned as war crimes by the United Nations (UN) and world leaders have expressed their disgust. During the nine-minute video the Great Pyramid of Giza near Egypt's capital, Cairo was coupled with a pledge to destroy "ancient sites built by the infidels".
In a separate propaganda film, a militant vows to destroy the 2,500-year-old temple of Nabu in the ancient Assyrian city of Nimrud, currently under IS control, before an explosion razes a building.
The video, entitled 'The Axe of Ibrahim, the Intimate Friend of Allah' shows information signs on the Nabu temple wall before the blast is shown from a number of different angles. Although it has not been independently confirmed that the temple had been razed.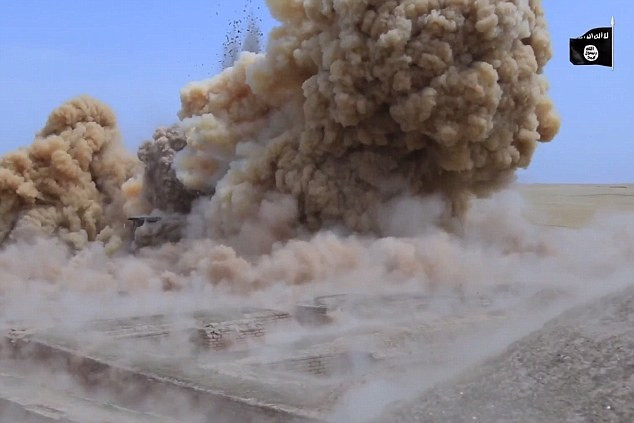 IS also claim to have destroyed the Adad and Mashki Gates which formed a large portion of Nineveh's fortification wall with bulldozers. This destruction was released as a photo report on IS in mid-May.
Isis had taken control of the Syrian city of Palmyra in May 2015. They quickly began destroying ancient monuments and using the amphitheatre as a backdrop to their propaganda videos.
They were ousted from the UNESCO World Heritage site by the Syrian army backed by Russian air strikes after three weeks of fighting earlier this year.
In 2015, the group published videos of militants smashing monuments and blowing up ruins in the ancient city of Nimrud, northern Iraq. The group has also smashed ancient Assyrian statues and carvings in Mosul museum, and has reportedly bulldozed the ruins of Hatra, south west of Mosul.