Online propagandists affiliated with the Islamic State (Isis) terror group have attempted to launch a series of social media-based attacks targeting Facebook and Twitter. However, despite their best efforts, no-one seemed to notice. IBTimes UK has been investigating IS channels on the encrypted messenger app Telegram and we observed a number of channels that regularly post Isis-related images, text and video content to hundreds of viewers.

In an explanation posted alongside the Facebook 'attack' plans, the anonymous activists said: "Whatever comments you see supporting the Islamic State, like them. If we have everyone participating at one time, we will dominate the whole post and make some serious strong Dawah."
The term Dawah refers to the teaching or proselytising of Islam. However, the ongoing campaign, which is still active at the time of writing, has been plagued with problems from the start. On 6 April, after much consideration, the activist decided a Facebook campaign should focus on the profile of Dr Bilal Philips, a controversial Muslim teacher, speaker and author who frequently appears on religious television channels.
In 2010, Philips was banned from the UK for "extremist views". The aim of such a campaign, IBTimes UK has uncovered, was to promote Philips' content and post reams of comments in an attempt to push IS-related posts to prominence (Read: How to protect your Facebook from Isis: The tricks Daesh uses to hack accounts and spread propaganda).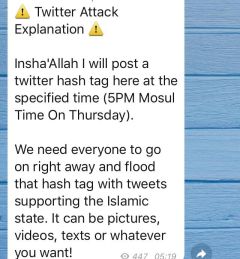 In its Telegram postings at the same time, the group posted a link to a separate channel called Content For Attacks that included reams of text to be copied straight onto social media. In a reference to the recent attacks in Brussels, one statement read: "We have come up with proofs from the Quran, Ahadith and Ijma of the scholars to prove that the Brussels attack was totally Islamic and doesn't go against Islamic teachings."
However, the attack had little impact. In an update on the Telegram application, the group posted: "Make sure you scroll through and like and reply to all pro-Isis comments so we can get them up top." Unfortunately for the tech-savvy terror sympathisers, the result was minimal.

The doomed Twitter attack

Only 24 hours later, the account decided to launch another ill-fated 'attack' on social media, this time by hijacking and spamming a Twitter hashtag with Islamic State-inspired content. "Everyone make a Twitter account and get ready," one group admin said. "I will explain the attack in more detail shortly for newcomers. We need everyone to go on right away and flood [the] hashtag with tweets supporting the Islamic State. It can be pictures, videos, texts or whatever you want!"
Ten minutes later, the account posted: "The hashtag to attack will be given very soon, sorry for the delay, stay on, it's a matter of minutes."
Eventually, and again with little explanation, the Telegram account organisers chose to hijack the hashtag #DieMuslims. Yet roughly 10 minutes later, the group added: "Sorry, that hashtag turned out not to be good, wait I'm trying to find something." The group settled on the hashtag #CVESymposium that related to a US-government-backed peace conference set up to "promote moderation," "positive radicalism" and "hero narratives". "Go to Twitter and join your brothers and sisters in this Dawah operation right now," the propagandist group posted to the Telegram followers.
Yet in the face of rising Islamic State spamming, the so-called "attack" also had little impact. "If Isis is Twitter trolling you, you must be doing something right," wrote one attendee on Twitter.
As previously reported, a number of well-known Isis-related hacking accounts – the Caliphate Cyber Army, Sons Caliphate Army and Kalacnikov.TN − have merged to form the one United Caliphate Army. In response, a Raijin, technical lead of the Ghost Security Group (GSG), an organisation that tracks potential terrorist activities on social media, slammed the group as amateurs.
"Even Isis made fun of them because their claims were so outlandish. If this united team can make enough noise, maybe they'll attract someone who actually is capable of selecting any target at will and breaching it. I've identified several of them and they look like normal kids having fun, living in normal neighbourhoods, not war zones," he told IBTimes UK.