Isis fighters from China's ethnic Uighur Muslim minority have vowed to return home and "shed blood like rivers", in the terror group's first threat against the country.
In a 30-minute video, purportedly released by the jihadists on Monday (27 February), Uighur fighters, including heavily armed children, are shown training for conflict, giving speeches, praying, and killing other "informants", thought to be in an Isis-controlled area of Syria or Iraq.
China has long been accused of trying to suppress the ethnic Uighurs, who are based in the far west semi-autonomous region of Xinjiang.
Despite Beijing denying marginalising the Uighurs hundreds have been killed in the past few year after unrest between Uighurs and the ethnic majority Han Chinese.
And during the Isis propaganda clip images of Xinjiang with Chinese police on the streets are shown as well as seemingly-Chinese students studying in a classroom.
According to a translation from the SITE intelligence group, one jihadi says before murdering a prisoner: "Oh, you Chinese who do not understand what people say.
"We are the soldiers of the Caliphate, and we will come to you to clarify to you with the tongues of our weapons, to shed blood like rivers and avenging the oppressed."
The assailant then slits the throat of his victim who is hanging from the ceiling in an orange jumpsuit — in full view of a young boy.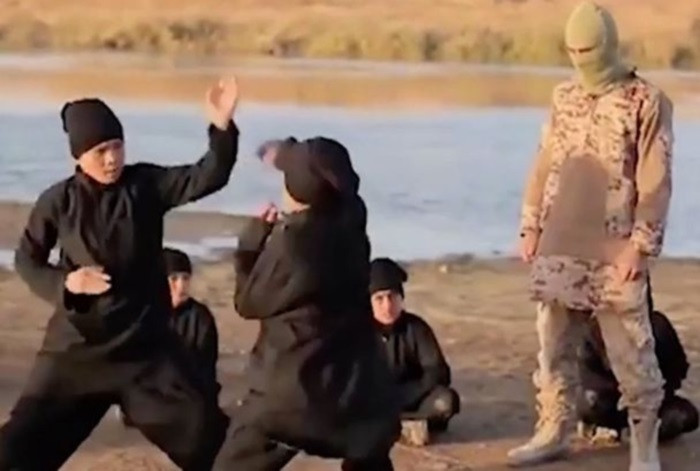 China has blamed exiled Uighur "separatists" for a series of violent attacks and has warned of the threat posed by returning fighters from the Middle East.
In response, China's Foreign Ministry has expressed a desire to work with the international community to combat Uighur militants.
Isis previously claimed responsibility for the killing of a Chinese hostage in 2015 and in the same year it was reported that three Chinese nationals had been killed trying to leave the sect after becoming disillusioned.
An 80-year-old Uighur Isis fighter named Muhammed Amin appeared in a propaganda video explaining that he left China to fight for the terrorists after his son was killed.