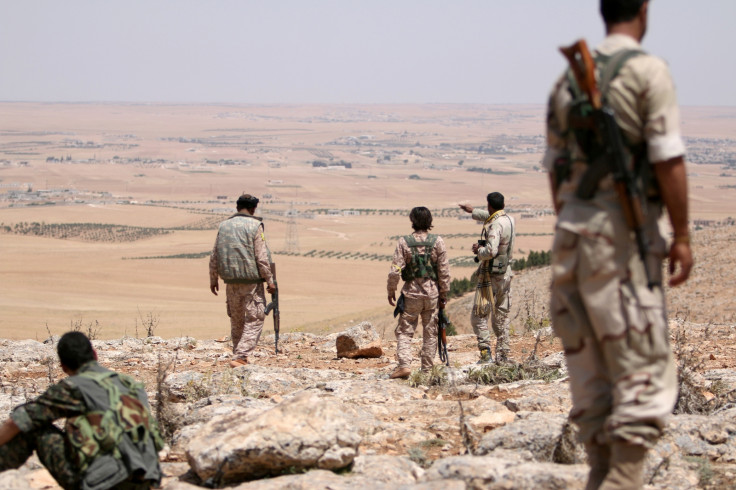 Turkey-backed Syrian fighters of the Free Syrian Army (FSA) launched an offensive into Kurdish-held territory in northern Syria on 1 March.
A statement published on an FSA-linked social media account claimed the rebels had taken control of Tell Tarwin and Qara, two towns near the city of Manbij. The area is controlled by the Manbij Military Council, part of the US-backed, Kurdish-led Syrian Democratic Forces (SDF) that liberated the city from Isis in August. Reuters reported the villages were located 27 km (17 miles) west of Manbij.
"There is a very big attack by the Euphrates Shield and Turkish army on the villages and areas of the Manbij Military Council," Sharfan Darwish, the council's spokesman, told Reuters. "There are fierce clashes ... and heavy artillery bombardment."
The Kurdish militias-affiliated news agency ANHA reported the clashes between the Syrian rebels and the Kurdish forces are still in progress. It also reported that the council was engaged on another front, against Isis, south of the city, after the jihadists attacked the towns of Mustariha and Jadida.
As part of the operation Euphrates Shield, Turkey offered military support to FSA forces to fight Isis, which was controlling the town of al-Bab and nearby areas. The town was recaptured from Isis last week after months of fighting.
Turkey's next target, as announced by President Recep Tayyip Erdogan on 28 February, was Manbij. Turkey considers groups linked to the SDF such as the Kurdish People's Protection Units (YPG) and the Democratic Union Party (PYD) as terrorists, due to their affiliation to the outlawed Kurdistan Workers Party (PKK).
The US lists the PKK as a terrorist organisation, but it considered the SDF essential partners in the fight against Isis, and has provided military training and support to the Kurdish militias as they advance towards Isis' Syrian stronghold of Raqqa.
Speaking to Foreign Policy magazine, the commander of US forces in Iraq and Syria Lt. Gen. Stephen Townsend said the SDF was "going to need additional combat power" if they want to defeat Isis in Raqqa. The US administration has yet to decide whether to provide the Kurdish forces with the heavy military equipment they would need to launch a successful assault.
The Kurds see Isis and Turkey as equally mortal enemies. Abu Amjed, a 38-year-old former pharmacist and leader of the Manbij Military Council, told the publication that "the bigger threat is Turkey".