A Japanese journalist notorious for his links to Islamist groups including the Islamic State (Isis/Daesh) has been arrested by the Kurdish authorities, Japanese officials confirmed on 1 November.
Kosuke Tsuneoka, a veteran freelance war-zone correspondent, was reporting on the battle to recapture the city of Mosul when he was captured by the Kurdish Peshmerga forces who are fighting with the Iraqi army, Shia militias and US-led international coalition to liberate the city from IS control.
The circumstances surrounding his arrest are still unclear. "We are still confirming details of his charges with local authorities," Chief Cabinet Secretary Yoshihide Suga told Japanese media at a news briefing. He added the Japanese Embassy in Iraq requested access to Tsuneoka and asked if he was being treated "properly".
Tsuneoka, who took the Muslim first name Shamil when he converted to Islam in February 2000, is known to the Japanese authorities for his links to IS fighters, who allowed him rare access to the caliphate. When talking to IBTimes UK in 2015, he referred to Islamist fighters as his "friends".
His links to IS were so strong he was even invited to be "witness and interpreter" to the Japanese hostages Haruna Yukawa and Kenji Goto in 2014. Tsuneoka had initially said he would do "everything" in his power to negotiate on behalf of the two men. But he was forbidden from travelling to Syria alongside Ko Nakata, an Islamic law scholar and visiting professor of Japan's Doshisha University, after the police raided their respective homes on 6 October 2014, a day before their planned departure. The hostages were subsequently killed.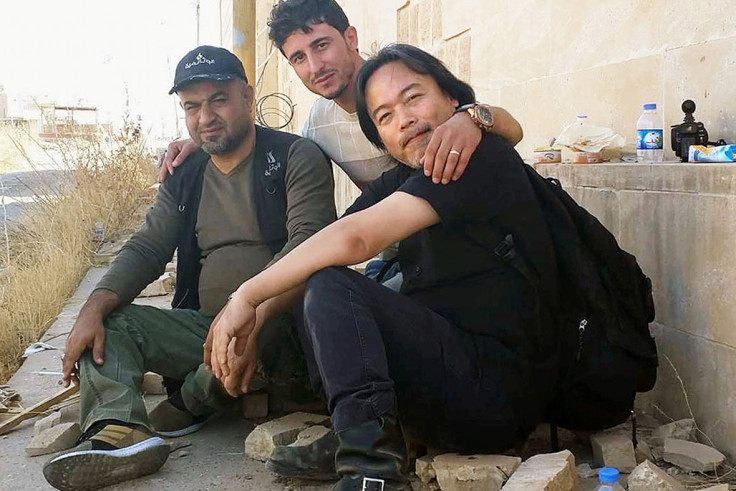 The journalist was detained for questioning for 24 hours but was not arrested. During the search, officers confiscated 61 personal items including his passport, plane tickets, three computers, seven mobile phones and a number of SIM cards.
The raid stemmed from a police investigation suspecting him of breaching the rarely enforced Article 93 of Japan's criminal code, which prohibits "preparing or plotting to wage war privately upon a foreign state", after allegedly helping a student who may have been attempting to join IS.
"The Japanese police still suspects me to be a criminal, yet they have not arrested me. There is no evidence; they have no evidence," Tsuneoka told IBTimes UK in February 2015.
When he last spoke to IBTimes UK in March 2015, he had fled to Vietnam to avoid police surveillance.
Attempts to contact him following his arrest were unsuccessful.