It has been billed as another tough measure in the fight against terrorism amid heightened fears over the Islamic State.
But the Home Office announcement on banning UK-based insurance firms from paying out on claims linked to ransoms paid to terrorist organisations changes little in practice.
And there is no evidence to suggest UK insurers have even paid out on claims for ransoms that ended up in the hands of terrorist organisations.
It is already illegal to fund organisations the government has labelled terrorist, including through ransom payments.
But there is a perceived grey area when it comes to insurance firms paying out on claims where someone has paid a ransom to a terrorist group in order to buy the release of a kidnapped person.
Tom Keatinge, terrorism financing expert and associate fellow of the Royal United Services Institute (Rusi), said the government must have identified some uncertainty in the insurance market.
"I'm surprised that there's any uncertainty because the UK position is very clear," he told IBTimes UK.
"However, I guess where the uncertainty could come from is that given London is a major insurance centre then you could have a situation where a ransom is paid from a country which is softer on the topic, but the insurance coverage is provided by the London market.
"Maybe the international nature of the insurance market means insurers can find themselves in a position where payments are made from jurisdictions which don't take the same approach to ransom payments to designated organisations as the UK."
Theresa May reveals £28m raised by Isis
In a speech, Home Secretary Theresa May highlighted the estimated £28m raised by Islamic State (Isis) in the past 12 months from oil sales, taxation, extortion and ransom payments.
It has taken many hostages and demanded ransoms from their families, employers and home governments.
Some have been paid. There are even accusations that the French and German governments have authorised ransom payments. But many have not. The theory is that if you pay ransoms, you only incentivise more kidnappings.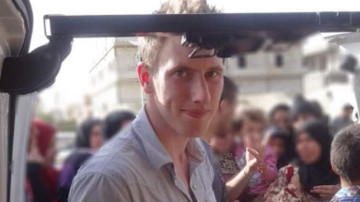 Islamic State militants have beheaded many hostages. One of the most recent was that of 26-year-old US aid worker Peter Kassig, who had been kidnapped in Syria.
A Home Office spokesman could not give IBTimes UK the specific figure Islamic State has made from ransom payments alone.
And they said the department had not seen evidence of UK insurance companies paying out on kidnap claims linked to terrorist financing.
Instead, the insurance ban is to end "uncertainty about insurance and reinsurance payments for kidnap and ransom", said May during her announcement of a new Counter-Terrorism and Security Bill. Under the Bill, a new offence will apply to such ransom payments.
"The Kidnap and Ransom Market does not pay ransoms to terrorists – this clause relates to the reimbursements of payments by an insured to secure the life of a kidnapped person," said a spokeswoman for Lloyd's of London, the world's largest insurance marketplace.
"Lloyd's and the London market have been in dialogue with the UK government for some time now to assist them on this issue.
"We will continue to do so but we believe any changes to UK legislation need to be replicated throughout the EU and the US, or the intended effect of this legislation will not meet its stated aims."