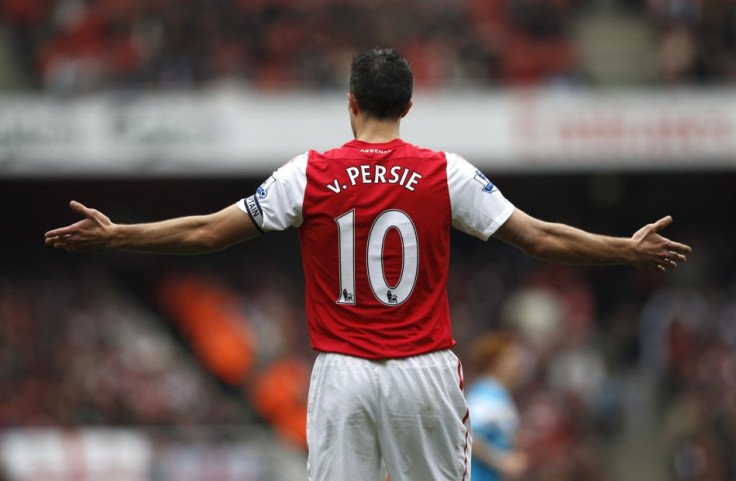 Football pundit Andy Townsend believes Arsenal striker Robin Van Persie would improve any side in world football on current form.
The Dutchman is in the finest form of his career with 38 goals in 41 games for Arsenal and Townsend suggests his recent record more than bears comparison with Barcelona's Lionel Messi and Real Madrid's Cristiano Ronaldo.
Townsend believes it is absolutely imperative Arsenal seek a swift conclusion to Van Persie's contract issues given his current importance to Arsene Wenger's side.
The former Republic of Ireland international suggests the Holland international's form will inevitably attract the attentions of Europe's elite clubs, and given the recent departures of Cesc Fabregas and Samir Nasir, Arsenal can ill-afford to lose their talisman and captain.
Van Persie netted yet another brace during Arsenal's 2-1 victory over Borussia Dortmund at the Emirates on Wednesday, and the aforementioned ITV football pundit believes it is not just the volume of goals but the manner in which he scores them that has surprised Townsend.
"It's not just the number of goals, it's the range of goals. Like Ronaldo, he (Arsenal's Robin Van Persie) is a threat from inside and outside the penalty area." Townsend told the Daily Mail.
"The Dutchman is a different player from Ronaldo, of course. I never saw RVP as a fox-in-the-box goalscorer; more a second striker, playing between the lines like his predecessor in the No10 shirt at Arsenal, Dennis Bergkamp, creating as well as scoring his share.
"When he scores with a screamer, like the one he smashed past Petr Cech against Chelsea (during Arsenal's 5-3 win at Stamford Bridge), you just think, 'That's Van Persie's trademark'; but now he is scoring in the six-yard box, too, with both feet - and with his head.
"He is a yard faster than anyone else on the pitch to see an opening before his marker realises the danger. I played with Dwight Yorke at Aston Villa when he was enjoying such a prolific spell. You see a swagger on the training pitch and, when the striker walks out to play, he believes he will score.
He added: "The statistics show how outstanding this run is and how important it is to keep him fit.
"Without him, Arsenal would still be in a sorry state.
"And what about that contract issue? Perhaps being in the shop window is helping to inspire this form.
"There isn't a team he wouldn't improve, including Barcelona.
"And if they believe they require more firepower to match Real Madrid's No7 in Spain, then Arsenal really will have trouble ahead."