Israel: Dozens Killed in Gaza as Sirens Wake Tel Aviv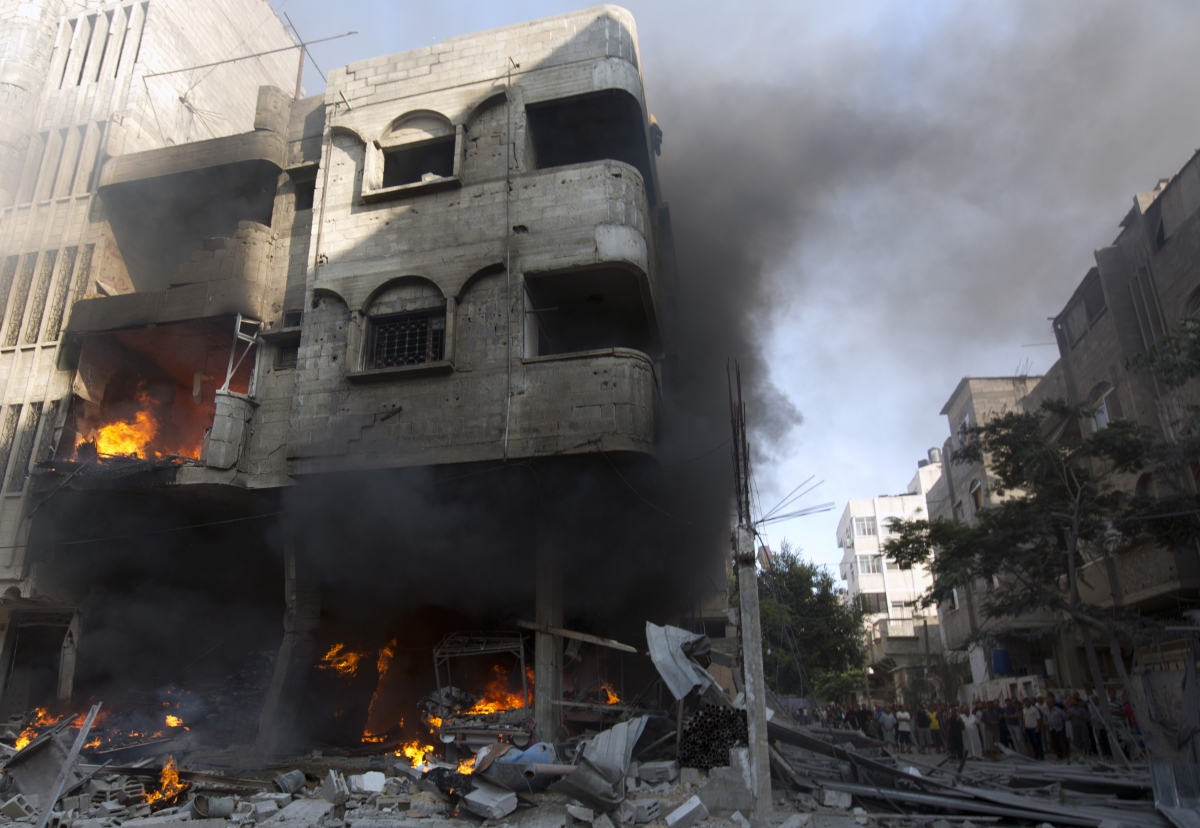 Israel escalated its air raids on Gaza, killing up to 20 people overnight, as militants in the strip continued firing rockets and warning sirens sounded in Tel Aviv and other cities.
The Israeli military said that more than 300 Hamas targets were struck in a large aerial assault focusing on underground tunnel networks and rocket launching sites. That brought the total number of targets hit to 750.
The Israeli Defence Forces (IDF) said one of the raids targeted and killed three islamic jihad militants involved in rocket manufacturing as they travelled in a car.
Palestinian officials said that a number of civilians were the victims of night raids.
The Palestinian Health Ministry said a strike destroyed at least two homes in Khan Younis in southern Gaza, killing members of a family, including five children.
Another eight were reportedly killed in the same city, as a cafe where people had gathered to watch the World Cup was hit.
At least 75 Palestinians have died since Israel launched Operation Protective Edge to quell Hamas ability to fire rockets.
IDF said Hamas has fired more than 365 rockets in the last 3 days.
Early in the morning, the warning sirens sounded in several cities including, Tel Aviv, Dimona and Eshkol.
Most of the rockets were intercepted by Israel's defence system Iron Dome.
The IDF tweeted:
However the military said that at least three rockets have hit residential communities in the Negev desert some 80km south east of Gaza.
It was not immediately clear if there were damages or injuries.
Another rocket landed near a house in Netivot near the Gaza border and several residents were treated for shock.
Earlier, Palestinian Authority president Mahmoud Abbas said Israel was carrying out "genocide" against Palestinians.
"This war is not against Hamas or any faction, but against the Palestinian people," Abbas said.
Tensions in the region escalated to their highest for years following the murders of three Israeli teenagers in the occupied West Bank and the revenge killing of a Palestinian teenager in Jerusalem.
UN secretary general Ban Ki-moon said the situation was "on a knife-edge" and urged both parties to end hostilities.
© Copyright IBTimes 2023. All rights reserved.