Israel: Former Prime Minister Ehud Olmert guilty of bribery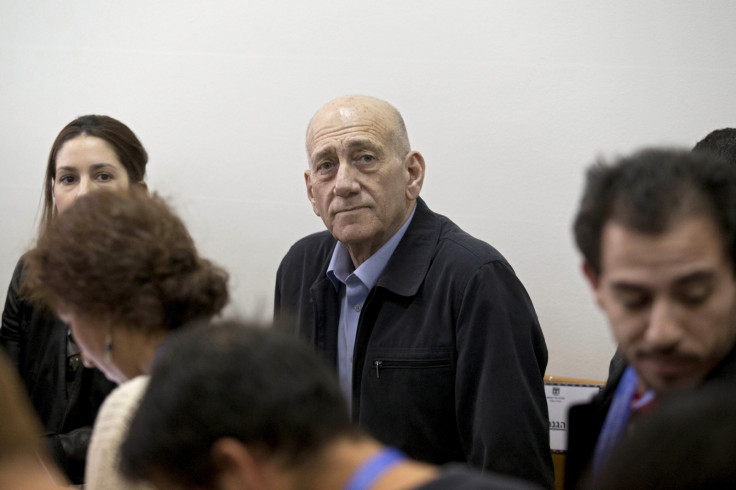 A Jerusalem court has found former Israeli Prime Minister Ehud Olmert guilty of accepting bribes, two years after he was cleared of the same charges.
It was the second graft conviction handed to the 69-year-old politician in the last 12 months. It marked the spectacular downfall of a statesman who once hoped to go down in history for putting an end to the conflict with the Palestinians.
Olmert's legal team said they were "very disappointed from the ruling", which they will most likely appeal, AP reported.
The Jerusalem District Court found him guilty of taking about $153,950 (£103,000) by American businessman Morris Talansky when he was serving as a Cabinet minister.
In 2012 Olmert was acquitted of receiving up to $600,000 from Talansky, some allegedly in cash-stuffed envelopes, during his time as mayor of Jerusalem and as a Cabinet minister.
A re-trial on the same charges was opened last year, after Olmert's former aide Shula Zaken became a state's witness, bringing evidence including tape recordings of conversations with the former PM to the accusations.
Jerusalem judges have subsequently convicted him on charges of fraud and breach of trust. A sentencing hearing is due to be held in May 2015.
Olmert denies any wrongdoing. His legal team said: "We are upset and disappointed with the verdict.
"The decision today was reached despite the blatant lies of Shula Zaken in court, and despite that the defence team clearly proved in the hearings that Zaken edited, deleted, and worked on the tapes in a manipulative way, and that the tapes are not reliable, to say the least," his legal team read, the statement concluded, according to the Times of Israel.
Last year, Olmert was sentenced to six years in prison for accepting bribes in a separate case - known as the Holyland affair - linked to a massive real-estate development in Jerusalem when he was mayor. He has appealed the sentence and has been allowed by the Israeli Supreme Court to stay out of jail until a final ruling is issued.
Olmert was mayor of Jerusalem from 1993 to 2003 and prime minister from 2006 to 2009. He succeeded Ariel Sharon after he had a stroke. As prime minister, Olmert waged war against militants in Lebanon in 2006 and the Gaza Strip in 2008.
A year earlier he re-launched peace talks with the Palestinian Authority. He later claimed he had offered the Palestinians control of almost the entire West Bank.
© Copyright IBTimes 2023. All rights reserved.