Israel hit by rockets from Lebanon as tensions rise after Hezbollah's Samir Kantar killing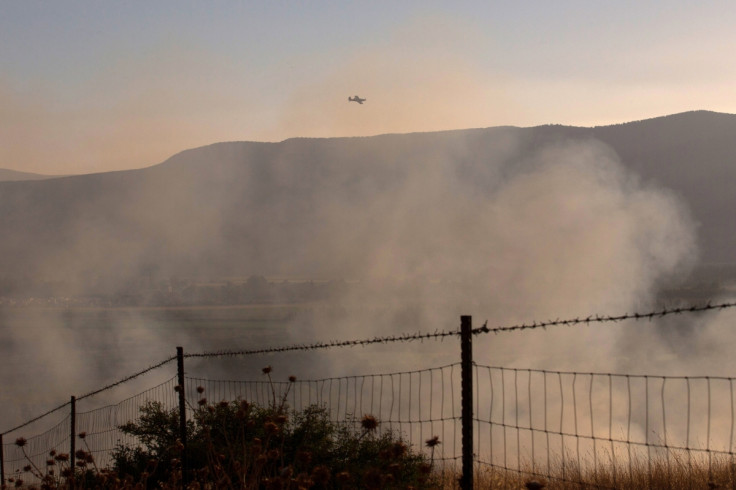 Several rockets were fired from Lebanon into Israel sending off air raid sirens in the country after a leading Hezbollah figure was killed in an Israeli airstrike in Syria. Lebanese media quoted security sources as saying at least two rockets were launched, while Israeli newspapers said up to four exploded in the north of the country.
No casualties or damages were reported as the missiles exploded in open areas near Nahariya, with one that reportedly fell in the sea. Israel Defence Forces tweeted, "A short while ago, sirens sounded in northern Israel. Initial report suggests 3 rockets hit northern Israel. Forces searching the area."
Lebanese security sources told AFP the two Soviet-built Katyusha rockets were fired from an area south of the city of Tyre. Shortly afterwards, Lebanese media reported increased Israeli air activity near the border, with possible air stikes and casualties.
Meanwhile, loud bangs were also reported in Gaza, amid suggestions they could have been caused by Israeli jets breaking the sound barrier.
The incident marked an alarming flare-up of hostilities between Israel and Lebanon and appeared to have come in retaliation for the death of Samir Kantar.
The leading Hezbollah militant was one of nine people that lost their lives in an overnight bombing in the Damascus suburb of Jaramana on 19 December, the group said. Hezbollah said the strike was carried out by two Israeli fighter jets that fired four long-range missiles after entering Syrian airspace.
Syrian state news agency SANA described the incident as "terrorist and hostile missile attack on a residential building". Hezbollah fighters are actively supporting the regime of Bashar al-Assad in the Syrian civil war.
Kantar became notorious as the "Dean of Lebanese Prisoners" after he spent almost 30 years in an Israeli jail over an attack that killed three people, including a child in 1979. Then a teenager, Kantar allegedly infiltrated Israel with three other militants killed a policeman, another man and his 4-year-old daughter in the coastal town of Nahariya.
The 53-year-old was released in 2008 in exchange for the bodies of two Israeli soldiers. By then he had become Israel's longest-serving Lebanese prisoner and received a hero welcome back home.
Israel did not immediately confirm it was behind the airstrike that killed him. However, cabinet minister Yuval Steinitz said no tears were shed for Kantar. "If something happened to him I think that no civilized person can be sorry. But again I learned it from the reports in the international media and I can make no concrete reference to it," he told AP.
Hezbollah vowed retaliation. Ali Amar, a member of parliament with the militant Shiite group said: "Hezbollah will in no way let the death of the martyr Kuntar pass without a price. The subject of retaliation is in the hands of the relevant commanders, and will determine the way, place and time that we will punish the killers — the Israeli enemy."
© Copyright IBTimes 2023. All rights reserved.