Jerusalem: Palestinian bus stop attacker rams 14 Israelis with car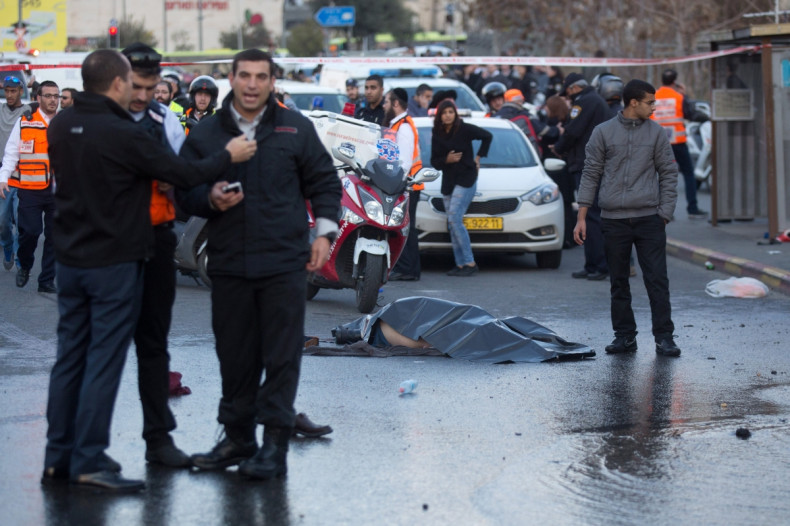 Fourteen people have been injured in an attack after a Palestinian man ploughed his car into a group of Israelis at a Jerusalem bus stop. The assailant was shot dead by a civilian, a member of Israel's security forces and a private security guard, according to a police spokeswoman.
An elderly woman and baby were reported to be wounded in the incident, but none of the injuries are thought to be life-threatening. The attacker has been identified as 21-year-old Abdul Mohsen Hassouna from the Palestinian neighbourhood of Beit Hanina in occupied east Jerusalem. Police said they found an axe in Hassouna's car, a Mazda.
Pictures from the scene on social media showed wreckage of the bus stop in the aftermath of the attack. The images show the damaged white car mounted on the pavement a few metres away after it struck a fire hydrant, spraying water into the air.
Jerusalem Mayor Nir Barkat urged the public to remain vigilant for further attacks, but also told people to "go on with your daily routine". In October, amid rising tensions between Palestinians and Israelis, Barkat called for Israelis to carry their firearms and said "those with a licensed firearm who know what to do with it must go out with their weapon. In a way, it's like military reserve duty".
Paramedic Masha Eichel who was at the location as the attack took place, told Israeli news organisation Haaretz: "We were standing on the other side of the street when I heard gunfire and immediately rushed across... I saw a car on the sidewalk right next to the bus stop [where] a number of people were lying on the ground bleeding."
Tensions have continued to mount between Palestinians and Israelis as frustrations continue to grow over Israel's occupation which is illegal under international law, with near-daily assaults taking place since 1 October 2015. The attacks have killed 117 Palestinians, 17 Israelis, an American and an Eritrean.
On 13 December a teenage Palestinian girl was shot after she allegedly tried to carry out a stabbing near the Kiryat Arba settlement in the occupied West Bank. The Israeli army said the attack was "thwarted".