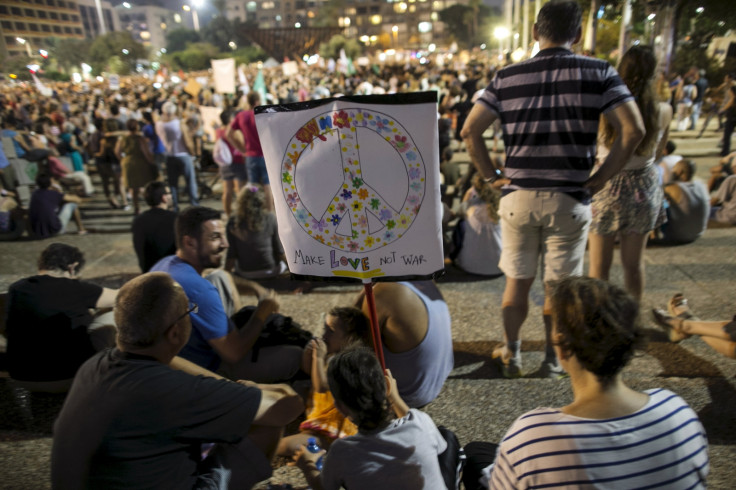 Thousands of people rallied across the Israeli cities of Tel Aviv and Jerusalem as two rockets were fired from the Gaza Strip further raising tensions.
The Israeli protests were against the stabbing incident at a gay parade by an ultra-orthodox Jew, as well as against the West Bank arson attack in which a Palestinian toddler was burned to death.
"What happened in Jerusalem goes against the spirit of (the Jewish) people... In every society there are extreme, murderous elements and regrettably it is true even among us but society and the state are judged by how the mainstream and the leadership act ... we will continue to lead our country against hatred and homophobia," Prime Minister Benjamin Netanyahu said in his appeal to the protesters.
The stabber Yishai Schlissel, who was originally given a 12-year sentence but released two years early, had made a series of statements from prison just before his release hinting that he was planning another attack on the LGBT rally.
The attacker emerged from behind the campaigners and began stabbing them while shouting slogans before he was stopped by the police.
"We must be much more forthright, we must be thorough and clear, starting with education through to law enforcement, in order to extinguish the flames," said Israeli President Reuven Rivlin.
"Flames of hatred have spread through our country, flames of violence, of hatred, of false and distorted beliefs," he told the crowd.
Meanwhile, two rockets were fired from Gaza stoking fresh tensions as the Israel Defence Forces (IDF) warned that the situation could worsen.
One of the projectiles exploded in Israeli territory while the other fell inside Gaza. No casualties have been reported as the IDF scours the area.