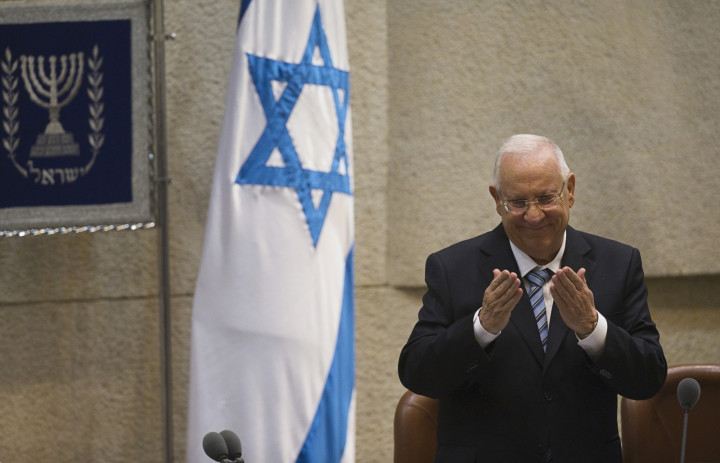 President Reuven Rivlin has become the first Israeli president to attend an annual memorial for the 1956 "Kafr Qasim massacre" in a gesture towards Israeli-Arabs at a time of heightened tensions in Jerusalem.
The "Kafr Qasim massacre" refers to the town of Kafr Qasim which was placed under a curfew of 9pm during Israel's military rule of the Palestinian communities within the state of Israel after its creation in 1948.
When the curfew was moved earlier to 5pm following fears of a Jordanian offensive in October 1956, local leaders in Kafr Qasim did not hear about the development and villagers were not informed of the change.
As the oblivious civilians were technically breaking the curfew, Israeli troops shot dozens of people on the orders of a commander, killing 49 including women and children. A number of Israeli soldiers refused to shoot.
"I have come here today as a member of the Jewish people and the president of the state of Israel to stand before you, the families of the slain and injured, to mourn and remember," Rivlin said.
"The brutal killing in Kafr Qasim is an anomalous and sorrowful chapter in the history of relations between Arabs and Jews living here."
"The state of Israel has recognised the crime committed here. And rightly, and justly, has apologised for it," said the Israeli president, referring to his predecessor Ariel Sharon's visit and apology to the town in 2007. "I too am here today to say a terrible crime was done here ... the murder of innocents," he continued.
Rivlin's comments come as tensions in the Israeli capital of Jerusalem continue to rise following a hit-and-run attack last week by an Arab-Israeli which killed a three-month-old baby and the continued Israeli building in East Jerusalem - which Palestinians consider to be the future capital of a Palestinian state.
"I am not naive. There is no point in denying or ignoring the reality of relations between the communities," Rivlin said.
He added that despite "difficult and deep-rooted hatred," relations between Arabs and Jews in Israel could be healed "for the simple reason that none of us ... have any other choice."
He proceeded to criticise violence seen in Jerusalem and Arab-Israeli communities where many have clashed with Israeli authorities.
"All that live here today must stand up and speak out against ... those who try to plunge us into the abyss," he said.
Rivlin is Israel's 10th president and a strong opponent of a Palestinian state who was previously a speaker of the Israeli Knesset and lawmaker in the Israeli parliament for decades.