Israeli prosecutors have charged two alleged Jewish extremists over an arson attack which left three members of a Palestinian family dead – including an 18-month old toddler. The Dawabsha family were sound asleep in their home in the village of Duma, in the West Bank, when it was firebombed on 31 July last year.
Saad and Riham Dawabsha and their 18-month-old son, Ali, all died whilst another son, Ahmed, 5, is still recovering in hospital with serious burns to his body. The arson attack sparked widespread protest and international condemnation and 13 other Israelis have been charged with hate crimes.
Amiram Ben-Uliel, 21, from a Jewish settlement in the West Bank, has been charged with three counts of racially motivated murder. A second Jewish defendant, who is still a minor, was charged as an accessory at Lod Court near Tel Aviv.
Following the deaths police investigations focused on young Jewish extremists and 13 other Israeli Jews were charged with hate crimes, including assaulting a Palestinian, vandalism of Arab property and setting fire to a church, according to Reuters. After the arson a number of anti-Palestinian graffiti scrawled on the walls of the Dawabsha family home reading, "Long live the Messiah", "revenge", and "price tag" suggest associations with the far-right 'price tag' movement.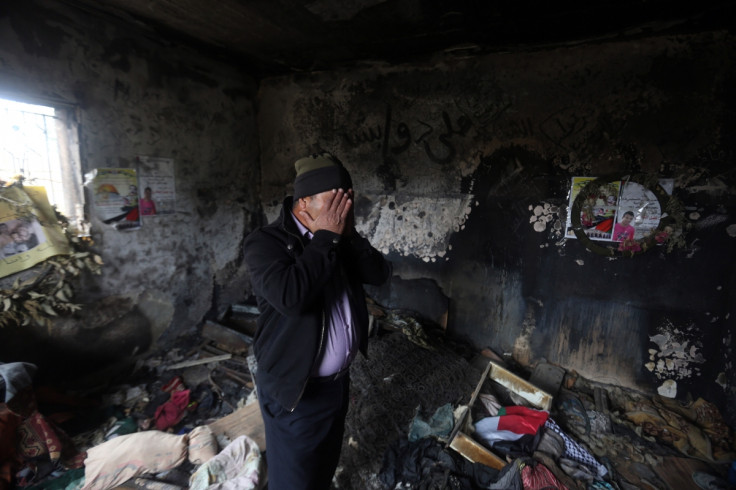 According to Ben-Oliel's indictment his attack was carried out in revenge for the drive-by assassination of an Israeli settler one month previously. The arson case has been cited as one key factor in the recent spate of knifings, arsons, shootings and revenge killings which have left 132 Palestinians and 21 Israelis dead since 1 October.
The deadly attack has also encouraged debate at a political level with Israeli Prime Minister Benjamin Netanyahu facing criticism for failing to tackle Jewish extremism inside his own government.
Saad's brother Naser is suspicious as to the chance of justice for his family, according to the BBC: "We have no trust in the Israeli judiciary. They would not have launched an investigation were it not for the international pressure on them."
Defence lawyers for Ben-Uilel and his co-defendant said that the pair gave false confessions whilst under interrogation – something Netanyahu and the Shin Bet security agency deny. "I doubt such confessions will stand up in court," lawyer Hai Haber said. "We know there's no significant external evidence linking the suspects to this incident."