Israeli Prime Minister Benjamin Netanyahu has said that airstrikes in Syria were launched to halt the transfer of "advanced weapons" to Hezbollah.
The airstrikes yesterday (17 March) would be repeated if necessary, Netanyahu warned Syrian President Bashar al-Assad.
His threat came just hours after Damascus said its forces had downed an Israeli jet, which it claimed had attacked a military target near the embattled ancient city of Palmyra.
Israel denied the claim, saying all its aircraft had returned from a mission in Syrian airspace unscathed, reported Sky News.
Relations between the pair have sunk to their lowest level since the Syrian civil war began in 2011.
Netanyahu said: "When we identify attempts to transfer advanced weapons to Hezbollah and we have intelligence and it is operationally feasible, we act to prevent it.
"That's how it was yesterday and that's how we shall continue to act. We are fully determined and the evidence of that it that we are acting. Everybody must take that into account - everybody."
In a rare admission of military action Israel confirmed that its forces had shot down a Syrian missile using its most advanced anti-missile Arrow system.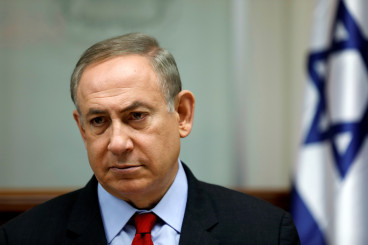 A Jordanian military source said that debris from the intercepted missile came down in the country while two other missiles are said to have landed in Israel, reported the BBC.
"Overnight, aircraft targeted several targets in Syria," an Israeli army statement said. "Several anti-aircraft missiles were launched from Syria following the mission and [Israeli] aerial defence systems intercepted one of the missiles."
The army added that none of the missiles hit Israel.
The pair have exchanged regular cross-border fire since the start of the Syrian war.
On 10 March Netanyahu accused long-time enemy Iran of using the Syrian conflict to "gain a foothold to fight Israel". He said Tehran was funding Israel's arch enemies, Hezbollah, and positioning Iranian troops close to the 1967 ceasefire line in the disputed Golan Heights.