US military officials have rejected accusation of bombing a mosque in the Aleppo province which killed at least 46 people, thought to be civilians, on 16 March.
The US Central Command (CENTCOM) said the military killed "several terrorists" belonging to al-Qaeda at a meeting location at the border between the Idlib province and Aleppo in a separate statement reported in the Associated Press.
A CENTCOM spokesperson quoted in the New York Times denied that a mosque was hit. "We did not target any mosques," said Colonel John J. Thomas, "What we did target was destroyed. There is a mosque within 50 feet of that building that is still standing."
Images shot from the location actually show that the mosque is still standing, as it was the compound's northern side that collapsed as a result of the bombing.
The UK-based Syrian Observatory for Human Rights said the mosque was only used by civilians. The organisation said the number of casualties is likely to rise as more bodies are pulled from the rubble and described the bombing as a "massacre".
Turkey's Deputy Prime Minister Numan Kurtulmus condemned the attack as a "war crime", as reported by Turkish state-owned news agency Anadolu. "This is a crime against humanity, this is a war crime," Kurtulmus told reporters. "Bombing civilians, people in the mosque, and a house of worship is unacceptable."
The airstrike hit as people were gathered for the evening prayer in a mosque in the Jeeneh area, near the Atarib town in the western countryside of Aleppo, close to the border with the rebel-held Idlib province.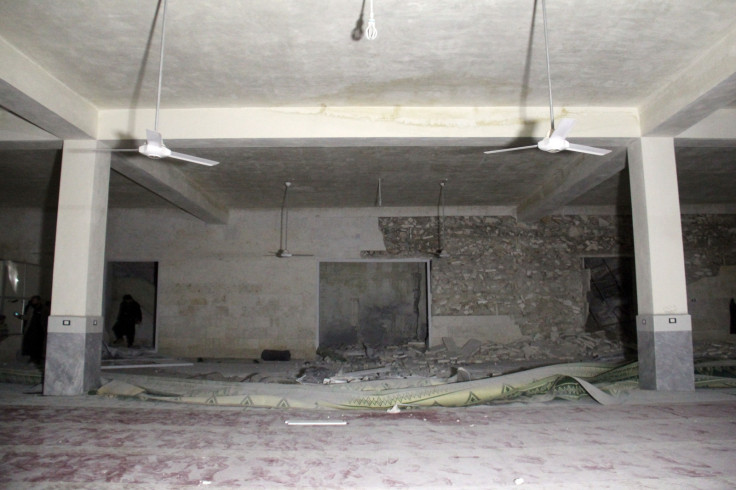 The attack was initially thought to have been carried out by the Russian air force, but remnants of a bomb allegedly recovered from the rubble suggested the US military were responsible for the bombing.
The writing visible on the bomb appears to match the label written on American Hellfire air-to-surface missile, although these missiles do not usually weight more than 45-50kg, and the label on the bomb recovered from the mosque states the weight at 52kg.
According to the investigative journalism website Bellingcat, which specialises in covering conflict and the military, the label nonetheless matches another remnant found in a drone strike that hit Idlib in October 2016 for which the US claimed responsibility.
The rebel-held Idlib province sees the presence of various militant groups opposed to the rule of Syrian president Bashar al-Assad.
The two most powerful rebel groups are Jabhat Fateh al-Sham (JFS), a group that recently renounced links to founding organisation al-Qaeda, when it was known as Jabhat al-Nusra (al-Nusra Front) and Ahrar al-Sham, meaning "the free men of Syria," a Salafist group which was founded in 2012. According to the US military, al-Qaeda terrorists have also found a safe haven in the troubled province.