To the conspiracy-crazed portion of the anti-Israel world, the runaway success of Tel Aviv-founded digital firm Taboola looks like another battleground in the evil Zionists' plot for world domination - a mind control tool that harnesses the irresistible lure of internet clickbait.
But to the more sensible side of anti-Israel campaigners, particularly the Boycott, Divest and Sanctions (BDS) Movement, it is another irritating story of triumph from Israel's booming technology sector, which powers the Middle East state and undermines the political efforts to hobble its economy over its actions in war-battered Gaza.
Israel's long-established tech sector is largely sheltered from the area's geopolitical strife. And it's almost impossible for campaigners to boycott. It's the Israeli economy's steel shield. Like the Iron Dome that protects its citizens from the Qassam rockets fired over the border by Palestinian militants, the tech sector snuffs out the economic threat of boycotts.
Taboola produces those sponsored article links often seen at the bottom of articles on the web, featuring enticing headlines such as "Nine people you won't believe actually exist" and "This bike will blow your mind". Often the stories are accompanied with a salacious picture, for added temptation.
Founded in 2007 by Adam Singolda, an ex-computer scientist with the Israeli Defence Force (IDF), it has grown its annual revenues to $250m (€199m, £156m) from 400 million bites of its clickbait a year. Taboola embodies Israel's tech domination.
Its founder cut his teeth in the encryption department of the IDF, where he honed his computing abilities before being released into the Israeli economy. Equipped with the kernel of the idea for Taboola and the skills to develop it, he found financial backing from an angel investor and built the foundations for today's success.
Singolda's firm is just one of a number of recent Israeli start-ups seeing big returns. One of its main rivals, Outbrain, is also a product of Israel. Wix, which allows users to build their own personal or business websites with ease through its free platform, was founded in Tel Aviv in 2006. It now boasts 54 million users across 190 countries.
Other Israeli start-ups have already been sold on. In February 2014, Google acquired SlickLogin, which offers cutting-edge identification technology for online accounts. The value was not disclosed, but it wouldn't have been cheap. Google has deep pockets. And Japanese online retailer Rakuten paid out $900m for Viber, an Israeli-born messaging and calling app with 300 million users.
"There is a major shift happening in Israel's tech sector and the bar is being raised," said Nir Zohor, president and chief operating officer of Wix.com, to IBTimes UK.
"Where we used to be happy with building innovative technologies and achieving early exits, now there is a concerted effort being made by leading entrepreneurs and companies to create something far bigger."
Zohor added that the success of Wix is more broadly "a testament to the growing capabilities of Israeli companies and to our transition from R&D centre for Silicon Valley to a real, active competitor to become the world's leading tech hub."
Exports
Israel's tech sector boasts a finger in every digital pie. From consumer-facing things like Wix's website builder, to cryptography, software for finance firms, telecommunications, and much more. As well as the new startups, the established giants HP, Intel and IBM also have a significant presence in Israel. Silicon Wadi, as it is known, claims to be second only to Silicon Valley in the US.
And the figures bear this out. Israel spends more on research and development as a portion of its GDP than any other country in the OECD, at 4.27%. The OECD average is 2.28%. Over half of the country's $82bn export industry is from tech and life sciences. It is also one of the top countries in the world for investments by venture capitalists and private equity firms.
According to the Israel Venture Capital Research Center, Israeli hi-tech companies raised $930m in venture capital in the three months to the end of June. That was the highest quarterly amount since 2000 and up 109% over the year. Money is flowing in, not out, despite the boycotters' best efforts.
Yozma
Being a draw for investors is just one of the factors driving the tech sector's decades of success. Taboola's Singolda demonstrates another – that the IDF, in which all young Israelis must conduct national service, has computer science departments in which it nurtures such talent.
And the government has been willing to pump money into the sector. In 1993, it created the Yozma programme, which effectively founded the venture capital market in Israel by drawing in cash to an investment fund for technology firms. In two decades it has managed $220m.
Israel also attracts skilled immigrants from across the world, particularly Jewish graduates, which inject the tech sector with a young and innovative labour supply. And its own universities, such as Technicon in Haifa, are turning out generations of technologically gifted graduates.
Spread across the country are 25 "incubators", which help foster startups by nurturing the entrepreneurs and their ideas as well as helping them to secure the funding to get things moving.
All of these factors and others help to create a healthy eco-system for the tech sector, supplying it with the money and talent it needs not just to survive, but to thrive.
Iron-clad
The tech sector in Israel is iron-clad. The nature of the work, much of which relies on coding and other intellectual property, means it isn't exposed to crises, be they natural or manmade. While other industries around it suffered as a new war between Israel and the occupied territory of Gaza flared up, particularly tourism, the tech sector was unscathed.
"The market has long ignored the geopolitical risk factor of investing in Israeli companies," said Adam Fisher, a partner at Bessemer Venture Partners, an American venture-capital firm with offices in Israel, to the Wall Street Journal.
"The more [intellectual property] is required to deliver the product, the less vulnerable it is to physical disruption, whether it's a war or an earthquake or a tsunami."
Moreover, much of the technology developed by Israeli firms is unseen. It's behind the scenes stuff that consumers won't know about, such as business-to-business software, which is ubiquitous without anybody knowing about it. To boycott such Israeli-originated technology would be near-impossible because of its opacity.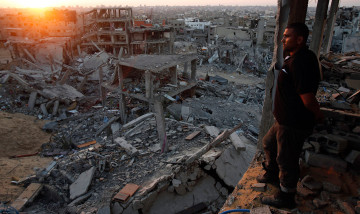 And there's another problem for those wanting a mass boycott of Israel over its occupation of Palestinian territories, the construction of illegal Israeli settlements, and intense military violence in Gaza that leaves more civilians dead than militants.
Israel is well supported, particularly by the US in its profitable tech sector. It's a problem acknowledged by the BDS Movement itself.
"The business links between Silicon Valley and Israel aren't apolitical," wrote Darwin Bond-Graham on the BDS website.
"Many of California's venture capital investors and technology executives are staunch supporters of pro-Israel causes. They have established numerous nonprofit organisations to strengthen economic and political ties between California and Israel.
"The California-Israel Chamber of Commerce, located in Sunnyvale in an office park filled with software firms, is funded by Silicon Valley investors, corporations and law firms including Intel, Paypal, Silicon Valley Bank, and Morrison Foerster. Executives from these companies sit on the Chamber's board of directors. Their ties to pro-Israel political groups are numerous."
Business as usual
The truth is, not everyone cares what the Israeli government does. And not everyone agrees with those who oppose it either. So the investment Israeli tech firms need will carry on flowing in as long as they offer lucrative returns and the technology businesses and consumers are demanding.
On 23 October, the California-Israel Chamber of Commerce will be holding a summit at the Microsoft Campus in Mountain View. According to the Chamber's website, expert and industry panellists from the US and Israel will focus on mobile, Internet of Things, big data and cyber security.
What they probably won't be discussing is the Palestinian question. Money will continue to flow in to Israel's tech sector. And, as a result, the tech sector will continue to flourish, undermining the efforts of Israel's most staunch critics to damage the economy by boycotts and bring about the change they want.