Orthodox Christians in Russia, Greece, Ethiopia and other countries around the world celebrated Christmas Day yesterday (Sunday 7 January). The date is taken from the old Julian calendar, which was introduced by Julius Caesar in 46BC as a reform of the Roman calendar. It was replaced by the Gregorian calendar in the majority of Western Europe around 500 years ago.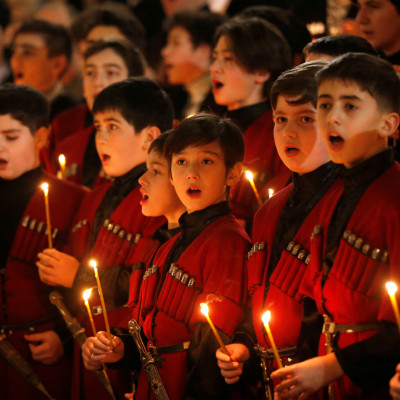 A midnight mass – attended by Russian Prime Minister Dmitry Medvedev – was held by Patriarch Kirill, head of the Russian Orthodox Church, in the Cathedral of Christ the Saviour in Moscow. Meanwhile, Russian President Vladimir Putin attended a Christmas service at the Church of Saints Simeon and Anna in St Petersburg. After the 1917 revolution, Christmas was banned in Russia. People started celebrating it again only after the break up of the Soviet Union.
Christmas services were also held in former Soviet states Belarus and Georgia and in Eastern European countries such as Bosnia, Serbia and Macedonia. IBTimes UK presents a look at Christmas Eve and Christmas Day celebrations over the weekend around the world.