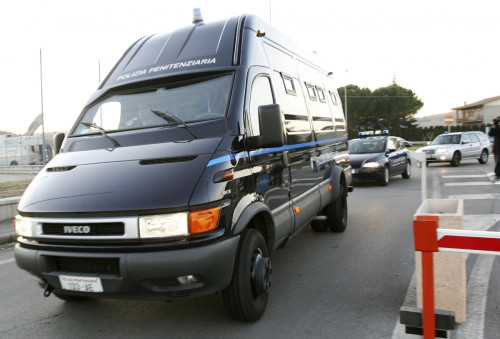 A Mafia mobster has been sprung from a security van after a spectacular shootout outside an Italian court between gunmen and police in which the gangster's brother was killed.
Domenico Cutrì, 32, went on the run after four masked men attacked security forces escorting him to a court in the northern town of Gallarate, near Milan.
Cutrì, who was serving a life sentence for murder, was due to appear before a local judge in the afternoon in relation to a separate case.
The police van that was carrying him was blocked by a black car just outside the court's premises.
Some of the attackers reportedly took a bystander hostage and, threatening the man with a gun, demanded police release Cutrì.
A gunfight erupted; two police officers were slightly injured and subsequently taken to a local hospital.
In the commotion Cutrì managed to flee as his accomplices reportedly used pepper spray to blind policemen and ease the escape.
However, Cutrì's brother Antonino was shot dead. His body was dumped outside a nearby hospital shortly after the gunfight.
Italian media said the escape resembled a scene from a Hollywood western.
Cutrì is allegedly an affiliate of the 'Ndrangheta, a mafia group with headquarters in the southern region of Calabria.
He was handed a life sentence in December 2012 after prosecutors claimed he ordered the killing of 22-year-old Polish worker Lukacs Kobrzeniecki.
Kobrzeniecki was shot dead in 2006 as he returned home after a night out with friends in the northern village of Trecate.
Police said the killing was sparked by Kobrzeniecki's reported attempt to woo Cutrì's girlfriend.
Authorities have launched a manhunt for the fugitive 32-year-old.