Three elderly Italian nuns were raped and brutally murdered in Burundi, officials in the central African country said.
The bodies of Bernardetta Boggian, 79, Lucia Pulici, 75, and Olga Raschietti, 82, were found in their convent in Kamenge, near Burundi's capital of Bujumbura.
Boggian had been beheaded, Godefroid Bizimana, the deputy director general of Burundi police, told Ansa news agency.
"They were all raped," the official added.
The motive for the killings was not immediately clear. Early reports suggested they could have been the result of a botched robbery or the act of a mentally unbalanced person.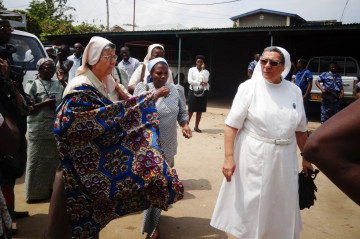 The bodies of the Xaverian Catholic missionaries were discovered at separate times.
Pulici and Raschietti were found with their throats slit by Boggian on Sunday afternoon, Father Mario Pulicini, responsible for the parish in Kamenge, told Italian missionary news agency Misna.
The 79-year-old nun, who had been working in Africa almost continuously since the 1970s, raised the alarm and police were called to the scene.
Later at night, other missionaries at the convent hard suspicious noises and, fearing the attacker was still inside the building, alerted Father Pulicini.
When help arrived, an inspection revealed Boggian had also been slain in her dormitory.
According to some reports, a knife-wielding young man was seen fleeing the convent after the first two murders. Police said they had detained two suspects for questioning.
Pope Francis said he was "deeply saddened by the tragic deaths" in a condolences telegram to Bujumbura's archbishop.
The three nuns were veteran missionaries to Africa with decades of experience working with the sick and poor and had arrived in Burundi from Democratic Republic of Congo several years ago.