Italian police have forcibly removed migrants who have been camped on the French border for days after Paris tightened security measures to prevent them from crossing.
Officers in anti-riot gear moved to clear the few dozen migrants who had been sleeping on rocks facing the sea at the border crossing near Ventimiglia, a few kilometres from the French Riviera.
Tensions briefly erupted as some would-be refugees put up a passive resistance, with images from the scene showing policemen shoving them into buses under the eyes of Red Cross volunteers.
Others tried to evade capture by fleeing on rocks closer to the Mediterranean waters, where officers appeared unwilling to venture.
Most migrants were taken to Ventimiglia's train station, where a temporary shelter has been set up. More than 100 people, mainly from Sudan, Libya and Eritrea, are stranded in the border town, refusing to go back, while France denies them entry.
Angelino Alfano, Italy's interior minister, has described the Ventimiglia stand-off as a "slap in the face to Europe" and is expected to raise the issue at an EU ministerial meeting in Luxembourg.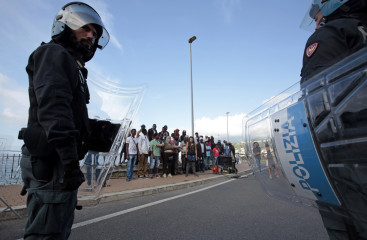 "[We are] working to avoid the political bankruptcy of Europe," he said upon arriving at the summit.
Struggling to cope with the thousands of asylum seekers who land on its shores from North Africa, Italy has been pressuring its European allies to endorse a common refugee redistribution plan to alleviate pressure on its overflowing reception centres.
This has met the resistance of other European countries including France, which has stepped up border controls, drawing the anger of Prime Minister Matteo Renzi, who accused Paris of selfishness.
The PM also warned Rome could take retaliatory measures that would "harm Europe" if EU member states were not to share the burden of addressing the unprecedented inflow of migrants.
Under EU rules, would-be refugees are supposed to be fingerprinted and apply for asylum in the first country they reach, which mainly tends to be either Italy or Greece.
However, an overwhelming majority of migrants prefer to slip away without being officially registered to head towards wealthier northern European states.
According to estimates, more than 100,000 people have already illegally crossed the Mediterranean this year, and more than 50% of them have arrived in Italy.