A group of migrants spent the night on the rocks along the Italian coast after being refused entry to France. Wrapped in thermal blankets, they huddled along the seawall outside the town of Ventimiglia, just a few kilometres from the privileged resorts of Nice and Saint-Jean-Cap-Ferrat on the French Riviera.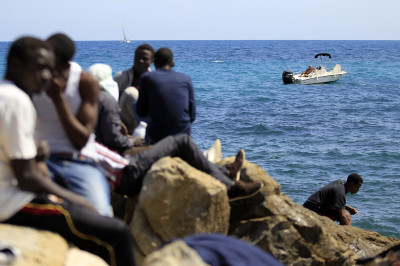 Under the Schengen treaty, free cross-border movement is normally allowed within most of the European Union but France has stepped up controls on migrants from Italy. Many migrants have also been halted at the Austrian border near the town of Bolzano in north-eastern Italy.
Prime Minister Matteo Renzi said: "The halt to Schengen for a few days is holding them up here but Italy isn't their destination." Most migrants who reach Italy – 170,000 last year – want to reach northern European countries, which have stronger economies and more generous welfare benefits.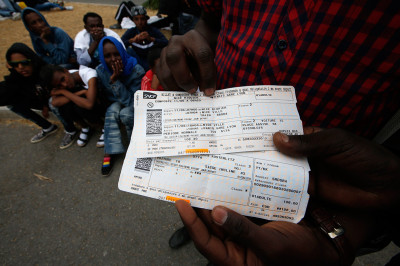 The crisis has become one of the most pressing issues facing Renzi's centre-left led government, after the surge in support for the anti-immigration Northern League (Lega Nord) in last month's regional elections.
Governors in the prosperous regions of Lombardy and Veneto, both Northern League strongholds, have resisted transfers of refugees from overcrowded reception centres in the south.
"Have a good Saturday. Watch out for scabies, malaria and machetes," the Northern League's bluntly spoken leader Matteo Salvini tweeted at the weekend.
Nationalist feelings also run high in France. Generation Identitaire, a French far-right group opposing Islamic immigration, staged a demonstration in Ventimiglia calling for the EU to refuse further migrants. The protest was broken up by Italian police.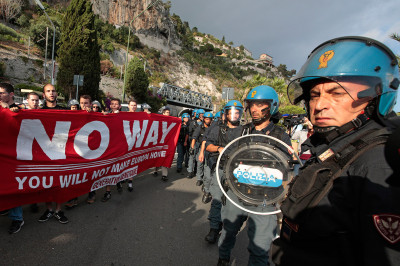 Italy has long complained that its European partners are shirking their responsibilities and leaving southern Mediterranean countries to handle the migrant emergency without effective support.
Renzi said that after toppling Muammar Gaddafi in 2011, the international community bears the responsibility for chaos in Libya that has led to hundreds of thousands of migrants crossing the Mediterranean to southern Italy.
Renzi called for a change to the so-called Dublin regulations, which assign most asylum seekers to the EU country they first enter. He said he would discuss the issue with French President Francois Hollande and British Prime Minister David Cameron when they visit Italy this week.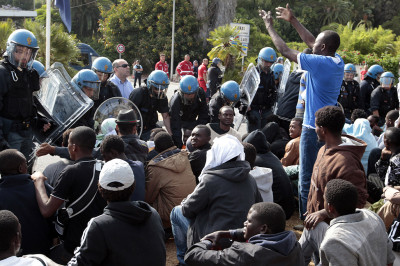 Most of the migrants sleeping rough along the seawall near the border are refugees from Sudan and Eritrea. The Eritrean government has been forced to deny its citizens are subjected to indefinite national service or that people trying to flee the country are killed, two of the most serious allegations among the findings of a year-long United Nations investigation.
The 484-page UN Commission of Inquiry report said the government may have committed crimes against humanity, including extrajudicial killings, widespread torture, sexual slavery and enforced labour.