Italian police have forcibly removed a few dozen African migrants who were camping out near the border with France. Italy is using the violent scene to show that Europe needs to do something about the migrant crisis.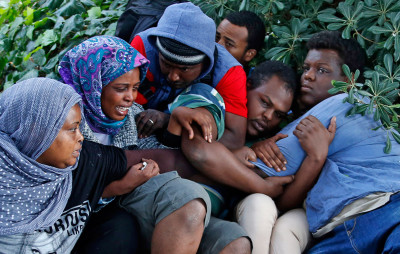 Some of the migrants tried to resist being loaded onto a Red Cross bus brought in to clear them from the Ventimiglia border crossing.
Migrants huddled on the rocks jutting out into the sea were left alone, with police apparently unwilling to move into a more treacherous location.
The migrants, mostly refugees from Sudan and Eritrea, have been camped out near the border for five days after French border police refused to let them cross. They have refused to leave, saying they want to continue to find family members further north.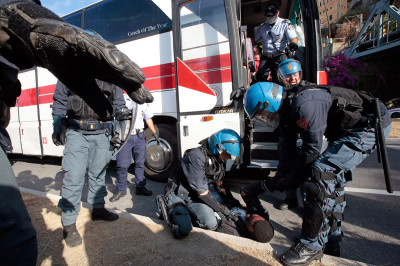 Italian Interior Minster Angelino Alfano said the scenes in Ventimiglia were a "slap in the face to Europe" and proof that migrants don't want to stay in Italy.
Italy has long argued that it and Greece cannot be expected to cope alone with the influx, just because they are the closest landing points for political and economic migrants from all over Africa and the Middle East streaming toward the European Union in rickety boats.
French Interior Minister Bernard Cazeneuve said France would continue to turn back the migrants. He said Italy must follow the EU's Dublin regulations, which assign most asylum seekers to the first EU country they enter until their application has been processed.
Italian Prime Minister Matteo Renzi, whose party lost ground to the anti-immigration Northern League in regional elections, called for a change to the regulations. He argued that, after toppling Libyan leader Muammar Gaddafi in 2011, the international community bears responsibility for the wave of migrants who have crossed to southern Italy – some 170,000 in 2014 alone.
Many EU governments are under growing pressure from anti-immigration parties such as France's Front National or Britain's UK Independence Party.