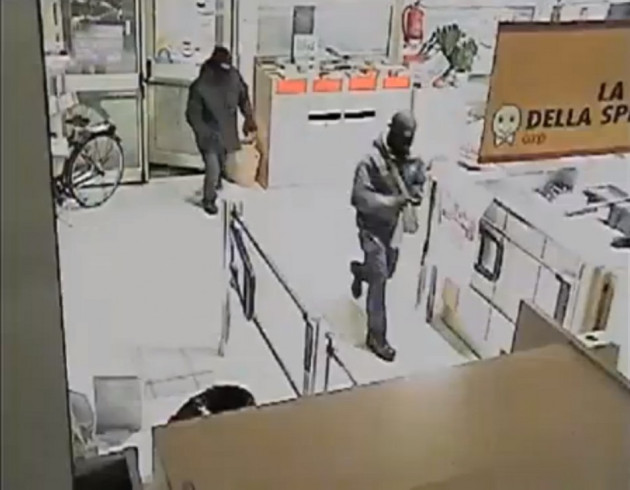 A video showing a thief being blown up by his clumsy - or murderous - accomplice while trying to open a safe has been released by Italian authorities.
Massimo Trovo, 49, and his accomplice were caught on CCTV as they broke into a Coop supermarket in Dicomano, near Florence, on a late November night.
Wearing a balaclava, the duo were filmed forcing the supermarket main door and then heading for the ATM safe inside the store.
Out of sight of the CCTV, Trovo applies an explosive device to the safe. Meanwhile his unidentified accomplice unwinds cables to trigger the blast and finds shelter outside the supermarket.
Working with the fuse, the accomplice activates the bomb and suddenly an explosion razes the store, Trovo, still near the safe when the bomb goes off, dies in the explosion.
The other thief then runs away without trying to rescue Trovo.
Italy's Carabinieri said the accomplice's behaviour shown in the video "raise serious doubts on his real intentions," since he could have "mistakenly" triggered the explosion but also intentionally blew up Trovo "to eliminate a troublesome accomplice."
Italian authorities posted the video on YouTube to help the runaway accomplice's identification.