Italy's outgoing foreign minister Paolo Gentiloni has been appointed as the country's next prime minister on Sunday (11 December).
It follows Matteo Renzi's resignation after his defeat in an Italian referendum on constitutional reforms.
Gentiloni, 62, was confirmed as the future prime minister after Italy's head of state, President Sergio Mattarella, asked him to form the country's next government.
The Democrat, like Renzi, had emerged as a likely pick for Mattarella after the president held three days of consultations with political and parliamentary leaders.
He is a former journalist and a Renzi loyalist, who remains as the leader of Italy's Democratic Party (PD), which has a majority in both houses of parliament.
However, the PD itself is severely divided between Renzi backers and his opponents. All major parties have called for elections as soon as possible, Italian media reported.
However, before any vote can take place, new electoral law needs to be passed. The law currently in place only applies to the lower house and could be deemed unconstitutional.
Renzi, in a Facebook post on Saturday (10 December), said he was leaving the post of prime minister "with a bad taste in the mouth".
He said: "There have been a thousand days of great government. Some commentators these days pretend not to see the impressive list of reforms that we have achieved; from worker's rights, social reforms, taxes, innovation, culture and justice.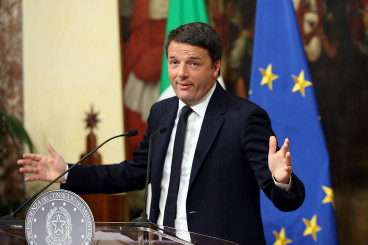 "Of course there's a bad taste in the mouth because it didn't work and, above all, a disappointment in the constitutional reform.
"One day it will be clear that the reform was needed for Italy."
He added: "But when the people talk, it's final. You listen and take note. The Italians have decided."
Italy's next prime minister, Gentiloni or anyone who succeeds him, will soon face an impending crisis in the banking sector, whose third-largest bank Monte dei Paschi di Siena will need a government bailout or face collapse.