Turkish militants Kurdistan Freedom Hawks (TAK) have claimed responsibility for the twin explosions that killed 38 and left 166 injured on Saturday 10 December. The TAK, an offshoot of the banned Kurdistan Workers' Party (PKK), made the claim on its website. Turkish officials had earlier blamed extremists belonging to the Kurdistan Workers' Party (PKK) for the deadly explosions.
Turkey's interior minister Suleyman Soylu said the death toll included 30 police officers, seven civilians and one as yet unidentified person. 136 people are still in hospital, with 14 in intensive care while five are undergoing surgery. A total of 13 suspects have been taken into custody in connection with the blast.
The car bomb blast and suicide attack rocked a football stadium in the Turkish city at about 10.20pm local time on Saturday (10 December).
The explosions took place within a time gap of just 45 seconds outside the Beşiktaş's Vodafone Arena Stadium in central Istanbul.
Speaking on CNN Türk news channel, Turkish Deputy Prime Minister Numan Kurtulmuş said the initial investigation pointed to the involvement of Kurdish separatist militants. He said: "The direct target of the attack was the Turkish police department. It's not certain, but the arrows point to the PKK." He added that anywhere between 300kgs and 400kgs of explosives were used in the blasts.
President Recep Tayyip Erdogan earlier said in a statement that either Kurdish extremists or Islamic State (Isis) could be behind the blasts. Both the groups have carried out a series of attacks against Turkey this year while Kurdish militants are known to particularly target security forces.
Authorities say the blasts targeted security personnel as 27 of those killed were from the police forces. Gunfire was also heard subsequent to the blasts.
At least three of the wounded are in critical condition while six others are in intensive care units.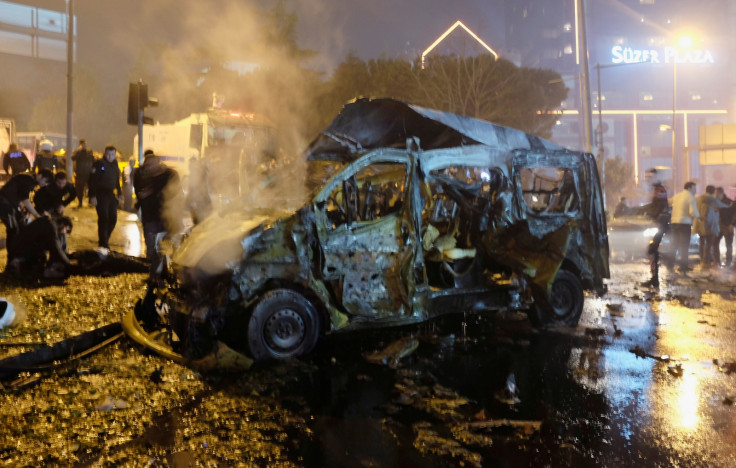 "A terrorist attack has been carried out against our security forces and our citizens. It has been understood that the explosions after the Besiktas-Bursaspor football game aimed to maximise casualties. As a result of these attacks, unfortunately, we have martyrs and wounded," said the Turkish president.
The US embassy in Turkey issued a statement condemning the attacks, while Nato General Secretary Jens Stoltenberg expressed solidarity with Turkey.
UK Foreign Secretary Boris Johnson said: "My thoughts are with all those affected. [The] UK committed to working with Turkey to tackle terrorism."