From The Joker's purple snake-skin trench coat and Arkham Asylum jogging bottoms to Slipknot's military style and Enchantress' scantily-clad veiled get-up, Warner Bros upcoming anti-hero movie Suicide Squad has certainly had its fair share of playing around with iconic DC characters looks. One outfit that remains somewhat similar to its comic book origin, however, is that of Captain Boomerang − played in the film by Jai Courtney − but that doesn't mean it doesn't have any unique elements added to it for cinema-goers to delight in...
During a press junket in New York City over the last weekend of July, Courtney was asked by Collider's Steve Weintraub whether there were any 'Easter eggs' on Boomerang's costume that perhaps fans had never seen before as they've not yet seen it up close.
In response, Courtney walked the Facebook Live-streaming journalist over to the displayed outfit − waving to co-star Joel Kinnaman on the way, of course − and started explaining the look.
"This is a real Breitling watch, that's worth $30,000," the Australian actor stated sarcastically before continuing. "The bling's fake. This glove though, right, look at this amazing thing. It's a butcher's glove, so it's a glove that's made for guys that are handling knives all day, so they don't cut themselves. It's made out of like, chain mail.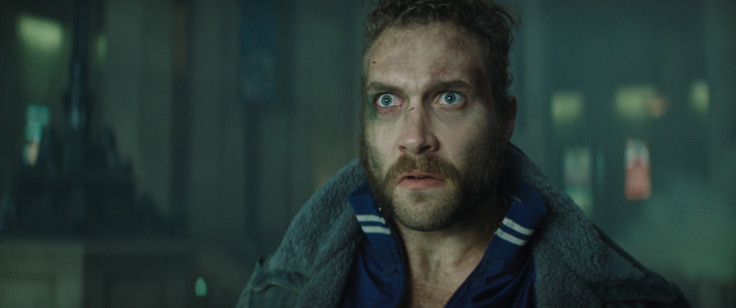 "We had a fantastic costume and props department, and they basically took a baseball mitt and chopped it up and added woven bits of that baseball mitt into that butcher's glove. It has like, a leather palm, so if he's throwing one of these razor-sharp boomerangs, he can catch 'em and won't cut his hand off. Oh... and his boots are held together with duct tape."
During the impromptu yet insightful interview, the 30-year-old also went on to discuss different aspects of the filming process, including David Ayer's "crazy" directing technique of getting his team to learn martial arts to having them divulge certain life experiences to his police interrogation friend, only for Ayer to use said anecdotes against them on set so that they would deliver their best, and arguably most visceral, performance.
Also starring Will Smith, Margot Robbie and Jared Leto, Suicide Squad centres on a number of imprisoned supervillains who are forced to carry out black ops for a corrupt government agency.
The film is released in both UK and US cinemas this Friday (5 August).
For more entertainment news follow A-List on Twitter @Alistinsider