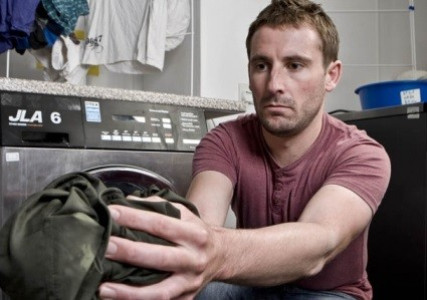 A man with obsessive compulsive disorder has told how he has been unable to hug his parents for years because of his condition.
OCD is a condition that affects one million people in the UK. An ITV documentary looked at the only 24/7 unit dedicated to treating sufferers.
OCD Ward follows the lives of people at the Springfield University Hospital in south London as they try to overcome their damaging psychological condition.
Edward, 32, lives in constant fear of being dirty and is terrified of touching anything. He is a successful IT consultant but his condition reached the stage where it was having a severe impact on his life.
Before entering the clinic, Edward believed his home had become so contaminated that he began sleeping in his car.
His parents, Sally and John, contacted the clinic to ask for help. "He's not an angry or aggressive person, but that's what it turned him into," Sally said.
John added that his son manifested some of the characteristics of Reagan, the child possessed by the devil in the film The Exorcist.
Explaining how it started, Edward said: "Five years ago I was living a perfectly normal life. Everything was absolutely fine, I was living on my own, I'd graduated, I'd got a good job and I was moving up in life, getting to where I should have been.
"All of a sudden I just started picking up all these weird little traits, which I didn't realise were OCD [traits]. Things got so severe that I've got to do something to claw my life back.
No magic wands
"Getting dressed, car door handles, making drinks, shaking hands, walking past people in the street, going to the toilet's a big ritual, and drinking as well."
Another OCD sufferer, Hayley, has been unable to work for 10 years because she is constantly plagued by thoughts horrible things will happen to her loved ones. As a result, she spends 20 hours per day checking up on them.
"That's what my OCD is about, clinging onto everyone I love, trying to look after them so that they don't die. It really kicked off when my nan died and my first dog died.
"When you walk away you just get these images of [the dog] running after me and a car hits her and I just see her lying under the wheels, and that's why it's so hard."
At the clinic, the sufferers are forced to face their fears every day.
Andra Ion, specialist psychiatrist at Springfield, said: "We do not have magic wands. The treatment here is extremely difficult."
Peter Kolb, OCD specialist added: "For the patients, the therapy can seem worse than the OCD. OCD is totally irrational, but for some reason we don't know their brain has switched on an alarm signal. It's saying 'This is highly dangerous'."
OCD Ward is on ITV at 9pm tonight (28 October)