Ivanka Trump stepped in for her father on Sunday (21 May) as host for a Twitter forum for young people in Saudi Arabia where she spoke about the power of social media and its ability to promote peace.
Fox News host Bret Baier introduced Ivanka to the crowd at the Tweeps2017 Forum and announced that the president would not be able to make the event. Baier noted that Trump would instead be at Saudi Arabia's new anti-terrorism centre with King Salman, The Hill reported.
According to CBS News, Ivanka expressed her gratitude for the hospitality the first family has received during her father's first foreign trip as president.
Speaking to a crowd of about 400 people, she said: "Social media is an incredibly powerful tool. It empowers the people, particularly the next generation. Your generation.
"Ultimately this young generation across the Arab world is a generation that can build tolerance, hope and peace. That's what today has been focused on," she continued. "This generation that will have voices heard that will convene and use social media to elevate their message."
The event's official website said the forum would "focus on social media and counterterrorism". The forum aimed to connect "young people interested in social media with social media pioneers, to engage in a meaningful discussion about social media topics, and to share creative and positive ideas".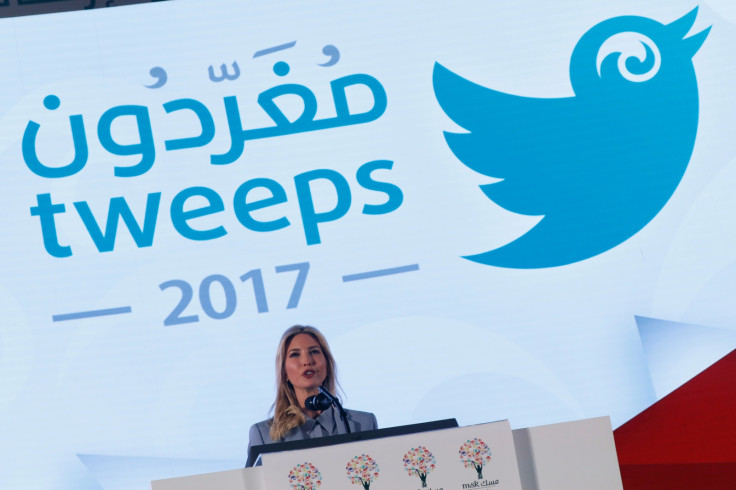 However, Freedom House's 2016 Freedom on the Net report rated Saudi Arabia as "not free". Freedom House noted that the kingdom does not block popular social media platforms but does restrict their use.
Ivanka's comments were made on the first stop of Trump's first foreign trip. Earlier on Sunday, the president gave a speech urging the Muslim world to drive out extremism.