The ongoing legislative election campaign in Ivory Coast has been marred by tensions, threats to supporters and pressure on voters.
The week-long campaign ends on Friday evening (16 December) at midnight, ahead of Sunday's legislative elections, which for the first time since the last parliamentary term could see candidates for the opposition win new seats at the National Assembly. Some 1,300 candidates are running for the 255 seats and tensions remain among political parties.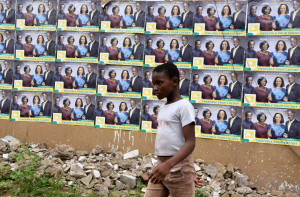 While authorities and political parties alike have called for peaceful elections, the return of the opposition Front Populaire Pvoirien (FPI) and an increasing number of independent candidates have raised the level of uncertainty and tension in the West African country, local media reports.
"The legislative elections in Ivory Coast are worrying," writes David Gone in Afrique Sur 7, referring to reports that the team of independent candidate Yasmina Ouegnin-Guessand "is constantly intimidated by threats made by unknown persons".
Gone alleged those threatening the candidate may be linked to the presidential majority party Rassemblement des Houphouëtistes pour la Démocratie et la Paix (RHDP), from which Ouégnin disassociated herself to run on an independent ticket.
In the north-western Folon region, independent candidate Chantal Fanny, the Rassemblement des Républicains (RDR) mayor for Kaniasso, claims to have received similar threats. According to RFI, Fanny accused her opponent, outgoing MP Aboudalye Koné of the RHDP, of using dishonest methods.
"I think he even blackmails and intimidates the people by saying: 'The president says that if you do not vote, you will not have access to electricity, you will not have water, nor roads,'" Fanny is quoted as saying. "I think it is terrible that some can use the name of the president, who is the president of all the Ivorians, [in this manner]. He needs all Ivorians to build this country." Koné denied the allegations.
When questioned about the impact of this potential poisonous climate ahead of Sunday's elections, Sourou Koné, the first vice-president of the Electoral Commission, played the card of appeasement with reference to tensions on the ground.
"In the countryside, there are sometimes arguments that are specious. The bottom line is that people are not fighting, people are not trading insults. But if not, all the other arguments they can present are campaign arguments for those who want to believe in it," he told RFI.
There was no real doubt about the outcome of the 2011 legislative poll, the 2015 presidential election and the recent constitutional referendum in October with regards to President Alassane Ouattara and his presidential majority's victory, as the opposition had boycotted the elections.
But Sunday's elections, for which opposition and independent candidates have heavily campaigned, could be more pivotal and its outcome uncertain. The poll ushers in Ivory Coast's third republic.