Jabhat al-Nusra, the Al-Qaeda affiliated group has released several propaganda photos, showing off a lighter side to the extremist group. A small number of fighters, wearing camouflage fatigues are shown throwing snow balls and playing like children in the powdery snow.
The photos are believed to have been taken from the snowy mountains of Qalamoun, north-east of Damascus. Temperature dropped significantly in the mountains during mid-November, with snow starting to fall and settle in the last couple of weeks.
The group have been engaged in fighting with the Syrian Arab Army and Hezbollah, the Iranian backed Lebanese Shi'a militant group.
With winter conditions worsening, the group has been trying to inroads into the industrial area of Zahraa, at the predominantly Shiite village of Zahraa, in Aleppo province, Syria.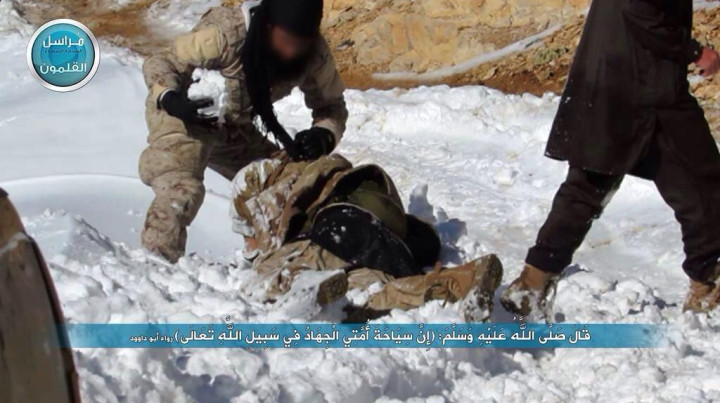 The failed attack began with a Jabhat al-Nusra fighter carried out a suicide bombing mission. The fighter, named as Abul Hasanaa al-Jazrawi, drove a truck full of explosives into a checkpoint manned by Assad forces.
It is unclear how many fatalities were sustained in the attack although it has been reported that Zahraa industrial zone is no longer in the hands of Jabhat al-Nusra, who retreated under pressure from the Popular Committee.
Away from the fighting, Jabhat al-Nusra have been negotiating a prisoner exchange with the Lebanese government in recent days. In order to speed up talks, the group posted a photo of Ali al-Bazal, a Lebanese army soldier, who had been captured.
The photo showed a terrified al-Bazal, kneeling in the snow with his hands bound behind his back. A militant can be seen standing behind him, tightly holding him by a clump of hair. A large sword is positioned over the Lebanese prisoner's neck.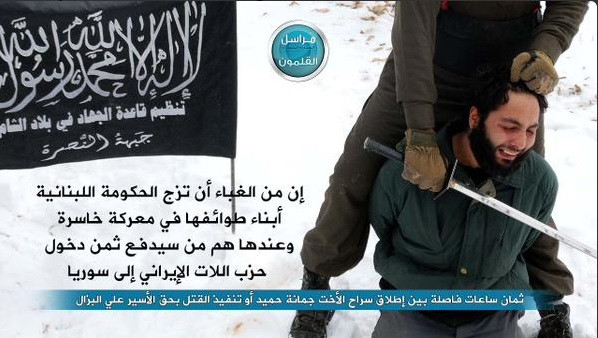 The group had threatened to behead the soldier within eight hours unless several prisoners, including one woman, are traded in return by the Lebanese government.
Jabhat al-Nusra have since postponed the deadline as negotiations appear to be making progress.